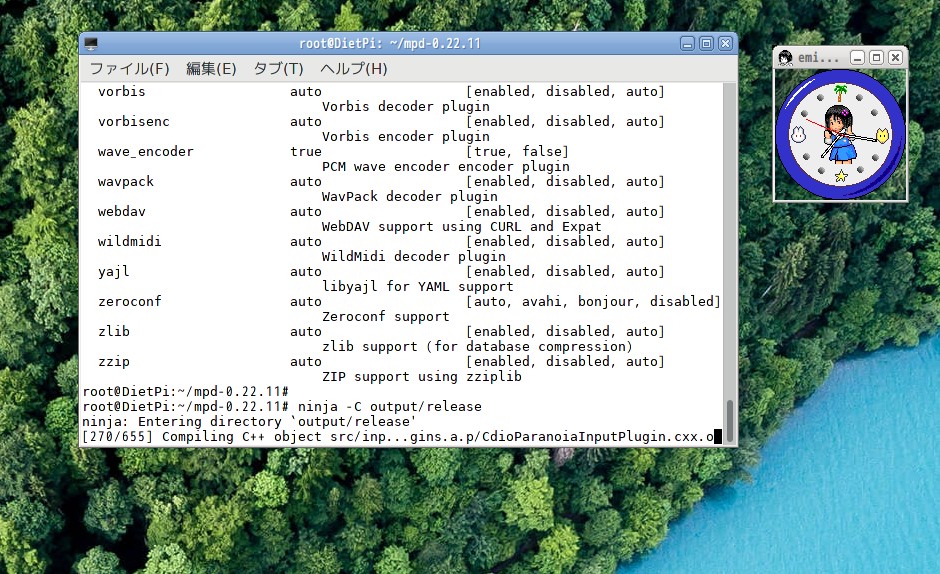 center>
mpd is being compiled using ssh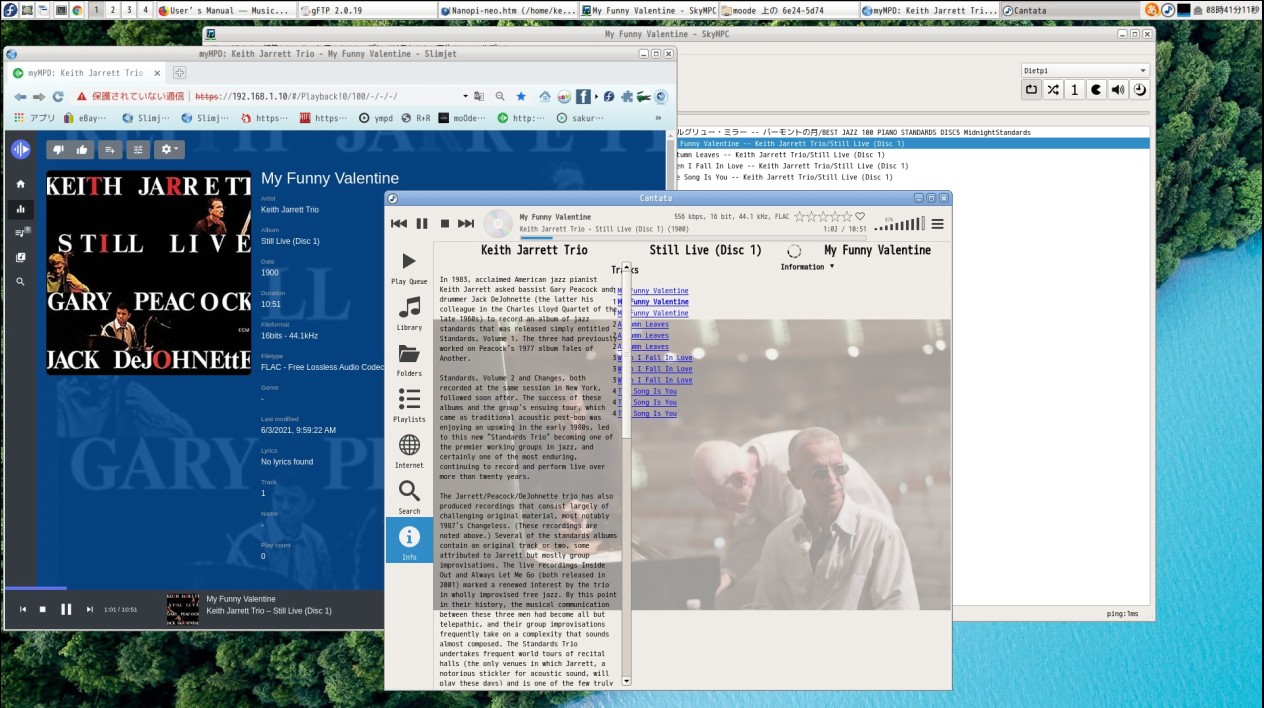 Play by mpd 0.22.11 on 2nd Sep 2021 by Nanopi-Neo2 Dietpi Buster
I fell asleep during compilation and my wife turned off the router on the server during that time, so I was wondering what was going on, but it was okay. First, uninstall the old version
I have installed a new version of mpd. You can update with systemctl daemon-reload. The album art of myMPD loads faster. The sound is good.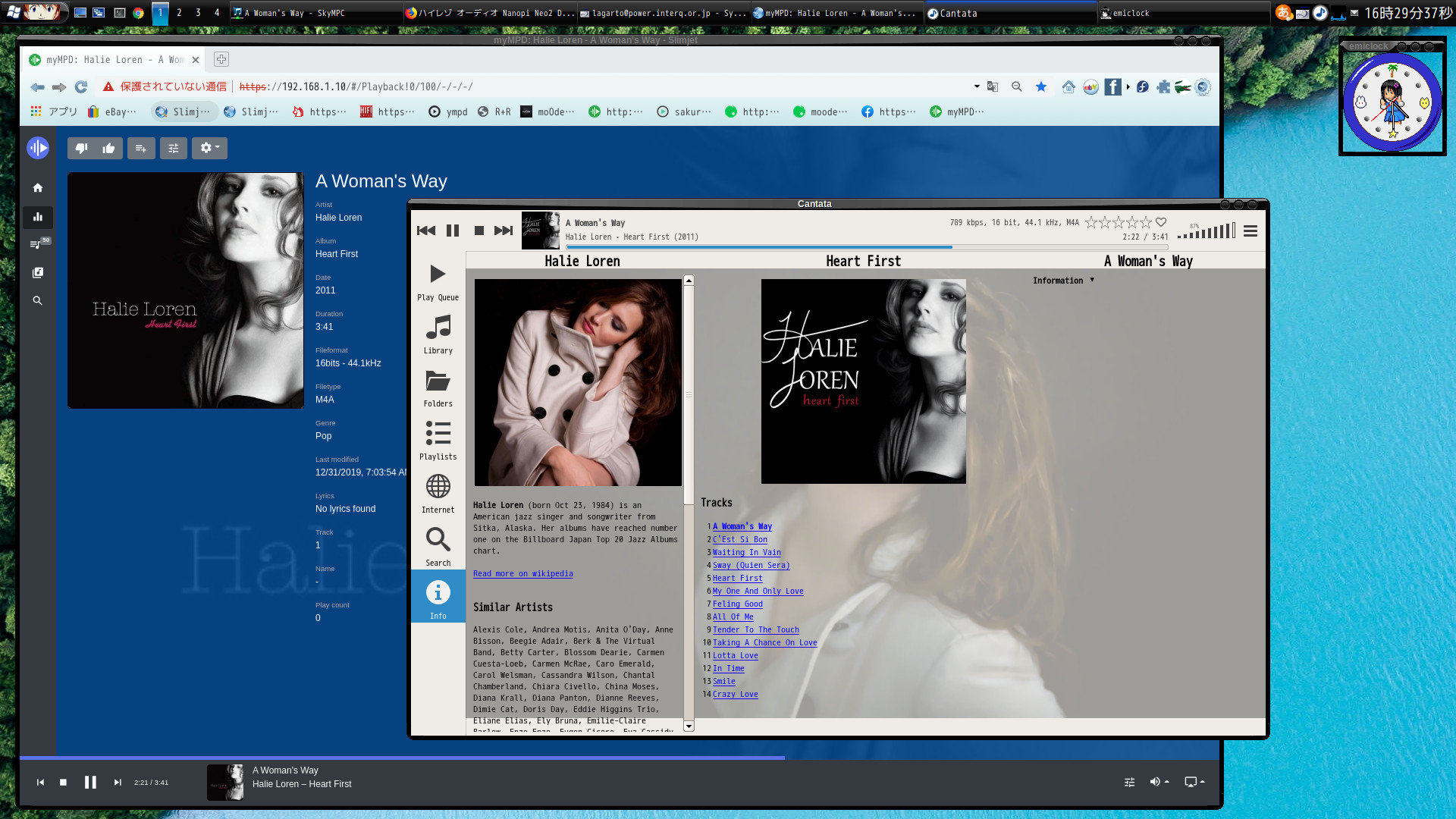 Play Music by Nanopi-Neo2 mpd 0.22.11 on 3rd Sep 2021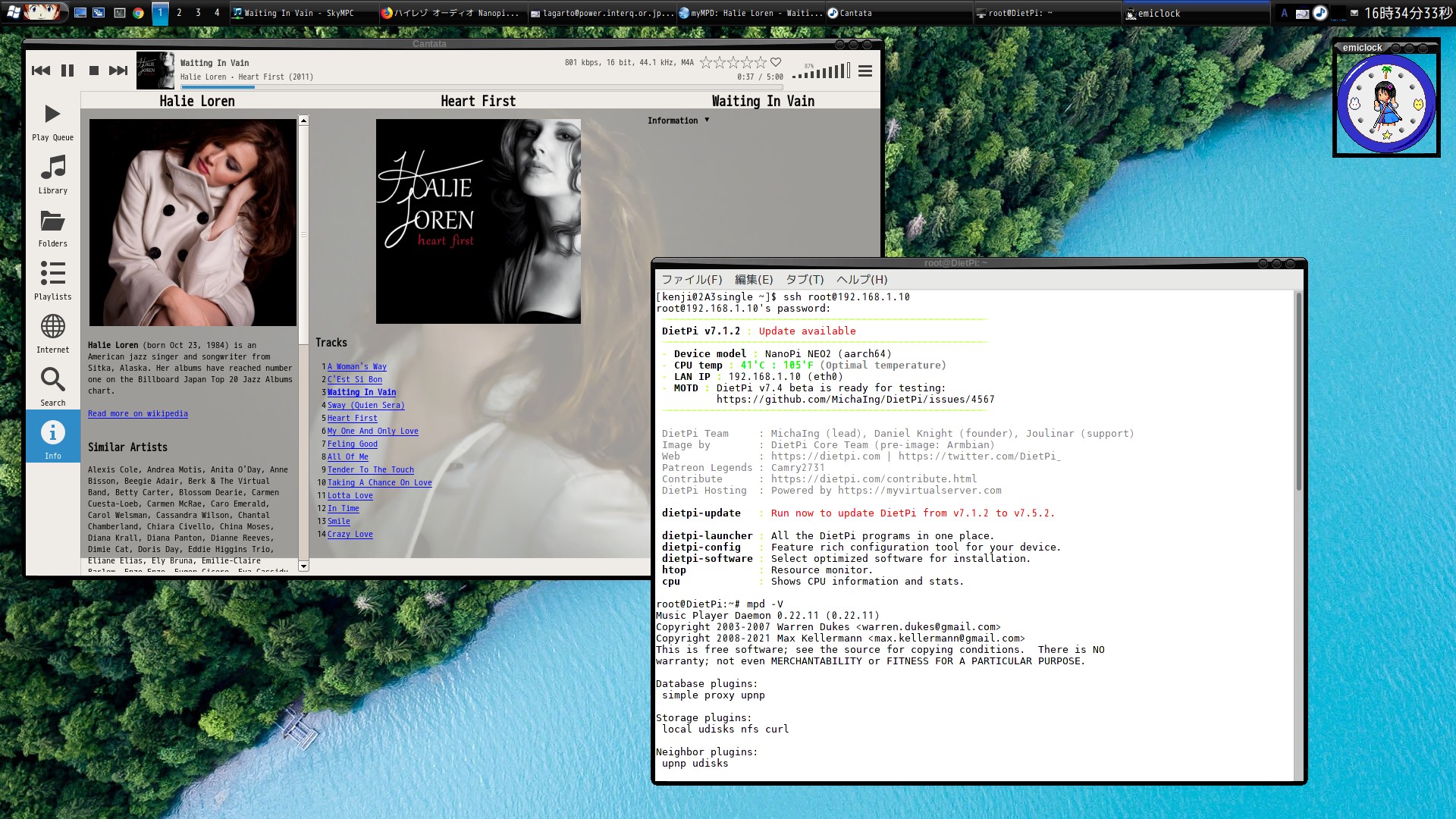 access ssh by nanopi-neo2 Misic server on 3rd Sep 2021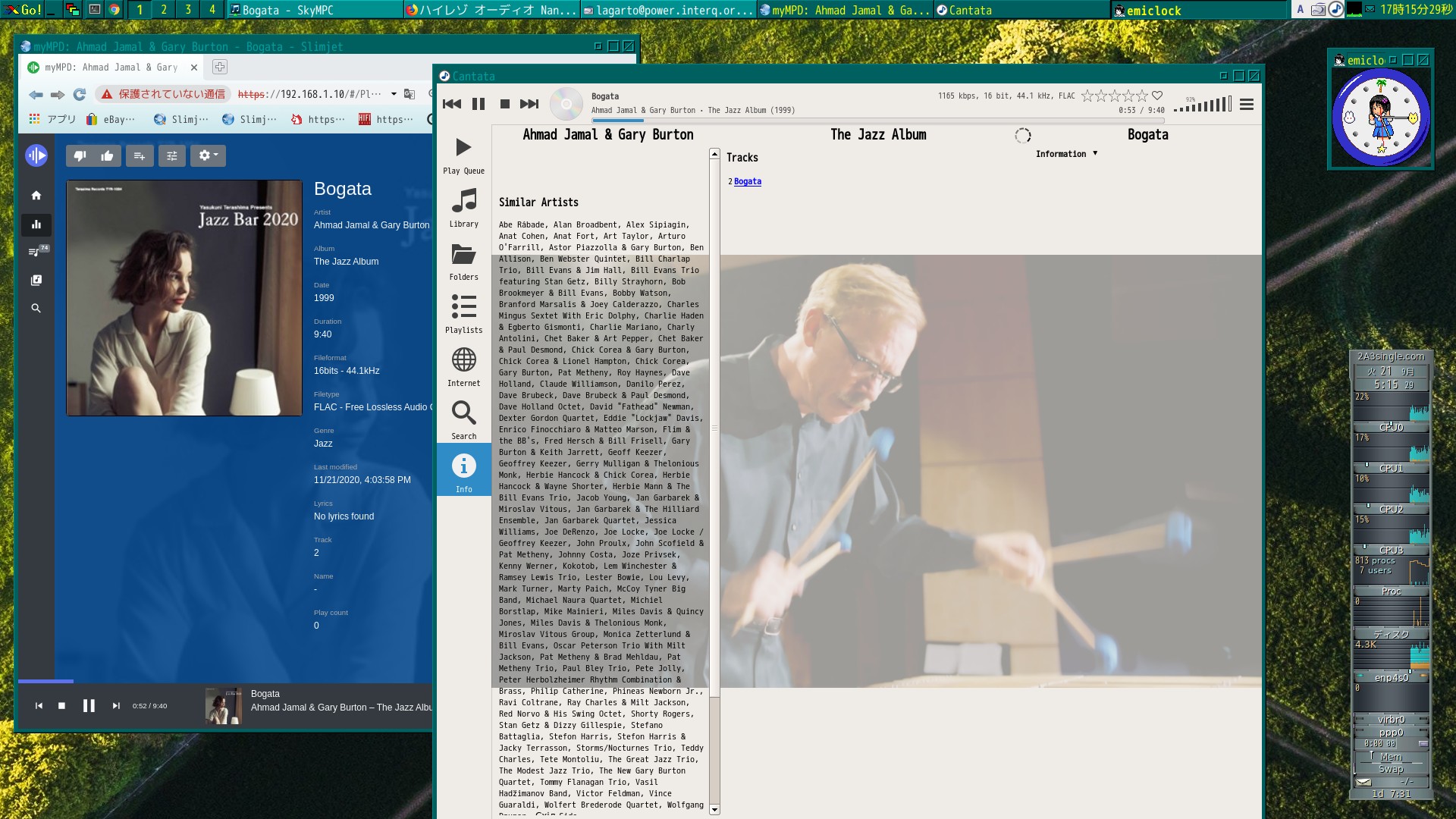 mpd 0.22.11 by Dietpi Nanopi-Neo2 on 21st Sep 2021
My System on 21st Sep 2021 and Music Server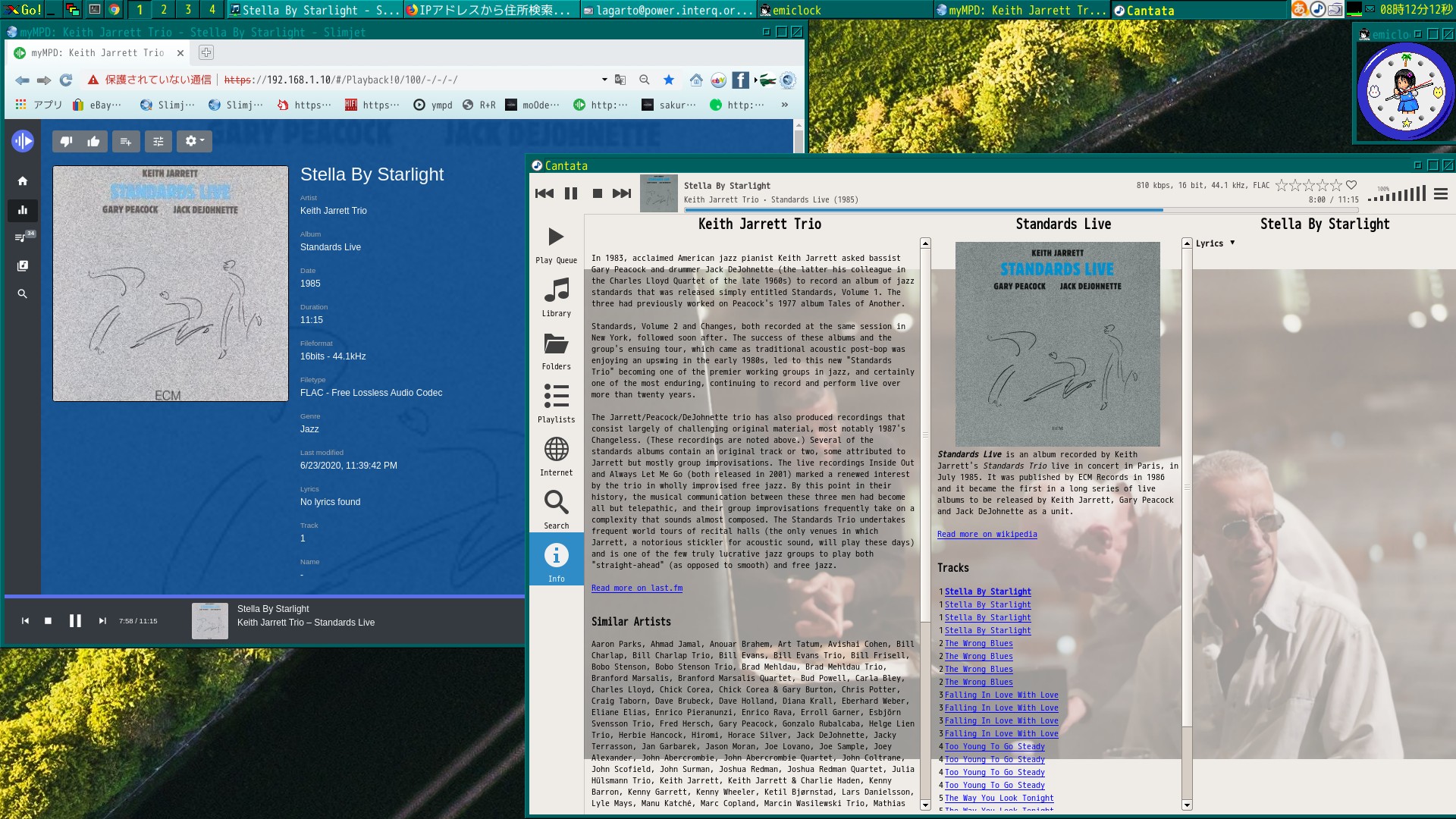 Nanopi-Neo2 Music Server
this music server does not have hard disc so if you would like to use link with NAS please next line by ssh
/6e24-5d74/ is hardisc of the other music server like Raspberry pi musicserver as moodeaudio.
root@DietPi:~# mount.cifs //192.168.1.3/6e24-5d74/ /var/lib/mpd/music/Music2 -o vers=2.0 iocharset=utf8
then you can get from many music file of NAS.or even PC. same way can use music from PC work station like windows and linux PC.by cantata.
with cantata can use internet radio which do you like.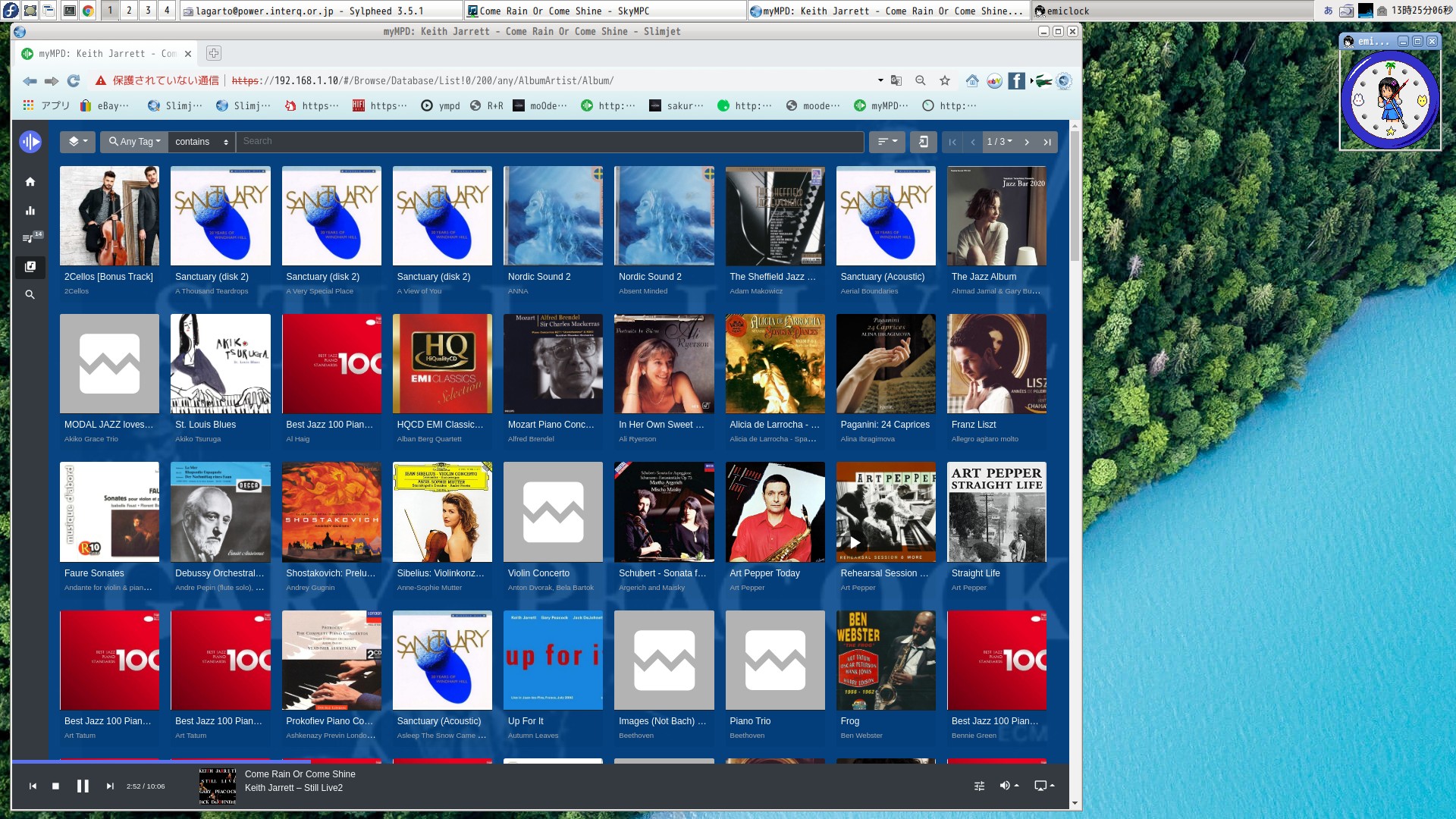 Mympd Dietpi mpd 0.22.11 12nd Oct 2021
Linn Jazz can not get Sound
Ricently Linn Server is down so does not get contact with server
if would like to get Linn Jazz please pls file . as File1=http://radio.linnrecords.com:8000/stream
then you can get now and 8003 Linn Radio and 8004 is Linn Classic
http://radio.linn.co.uk:8000/stream instead of radio.linnrecords.com
have to edit file by using vi or emacs with ssh access.


image file wrost tool ,application good for any OS
Very impotant Note: If would like to use NanoPi-Neo2 as Music Server please lean Linux first.if do not know Linux.
my desktop shown by photo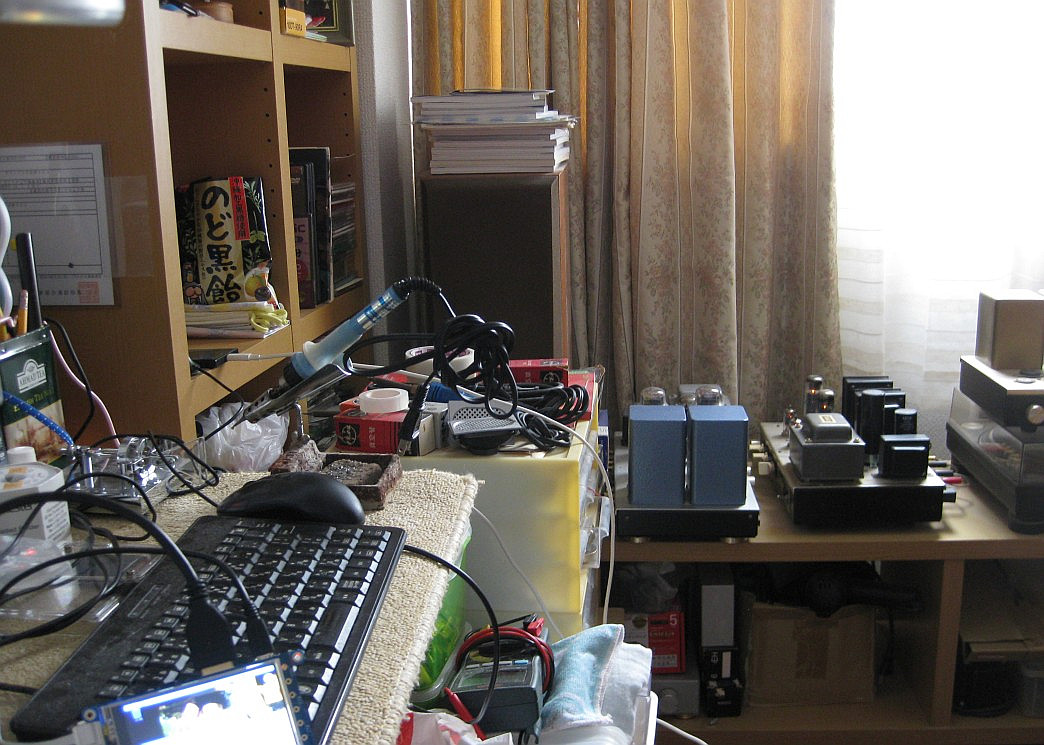 this is Main Amplifier always using these Amplifiers. 300B Single Ended Amplifier
always something to do ......

Note: I feel that the MPD has become 0.20.xx and the sound is very good. Since the version of mpd is the same as Moodeaudio, RuneAudio, volumio 2,
the trend of sound is the same. Because there is no interface on the contrary, the sound is also
It might be good. I do not have a UI, but I think that there is no inconvenience if you use it with other clients. "quite stable".
MPD is fully stable with Nanopi-neo 2 even RaspberryPi 2, 3.
I think that the sound trends are more vivid than those who do not use the dedicated OS for Music Server because there is gloss in the sound. Please do try it :)
It demonstrates sufficient stability. Although moodeaudio, runeaudio sometimes freezes, it does not freeze, this MPD does not freeze, you can listen to music stably for a long time.

Although I spend a lot of time, I think the sound is good enough for MPD alone. The problem is that the OS is limited.
It is a disadvantage that even if a new version of Linux is released like x86 Linux does not work.
It is a very limited standalone Music Server. In order to put WEBGUI, the ability to combine servers is necessary.
It is best to use a client. I think that it is a safe line to use Raspberry Pi. If you say
Why? Does "Raspberry Pi foundation" not issue Arm 7 or Arm 8 of PiZero? I think that Pizero is limited in use and limited.
There is not a good translation if it is cheap. There are lots of doubts.but try to build up small Music Server not so bad.
I am very happy using NanoPi-Neo2 with mpd 0.20.90 by ES9023 DIY DAC.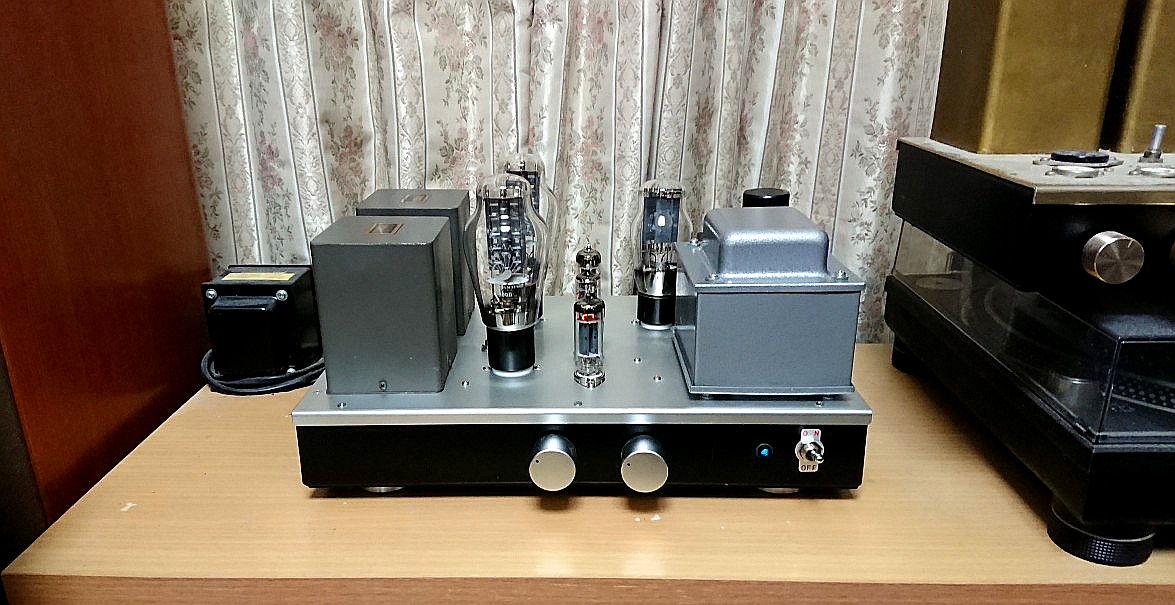 for Test by ENCORE
Links
ChiKoDac/add SPDIF/OLE etc

tkz_ memovery much helpful for NanoPi-Neo2 configure.
Mr TKZ site for NanoPi-Neo2 for SPDIF and OLE LCD ! please use translate site by Google

Free Down load MP3 from Classic,POP to Jazz any kind of Music

NanoPi Tip

DietPi from here

to get OS for NanoPi Neo2
Friendly Elec
LightMPD only Japanese siteso please use google translate

Mr TKZ version Volumio2 for NanopiNeo2
this part translate by Google:this Volumio2 for NanoPi-Neo2 has Master Clock

since 18th Sep 2017 NanoPi-Neo2 Music Server how to last up date 12nd Oct 2021
Single Ended Amplifier D.I.Y edited with BlueFish By JH1 DAS ex WB4ACI from Yachiyo Chiba Japan
How to build up Amplifier Single Ended Amplifier 2021