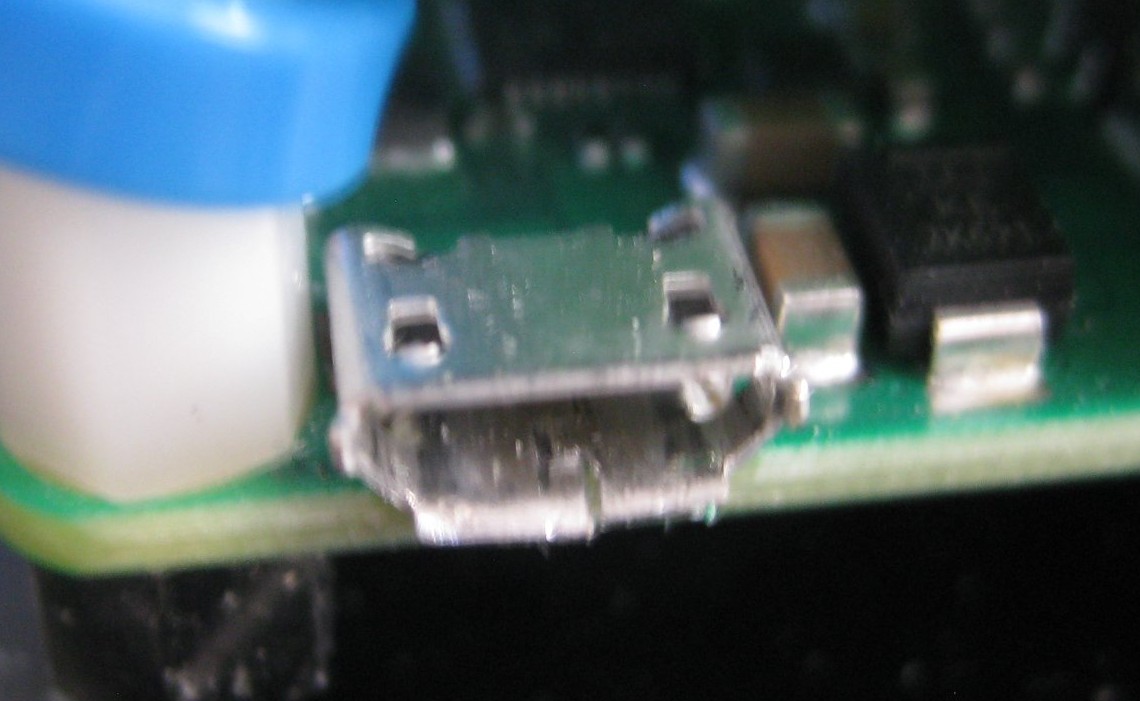 Raspberry pi are very weak DC Jack so mounted with gruw
Rasbian Buster Desktop window maneger replace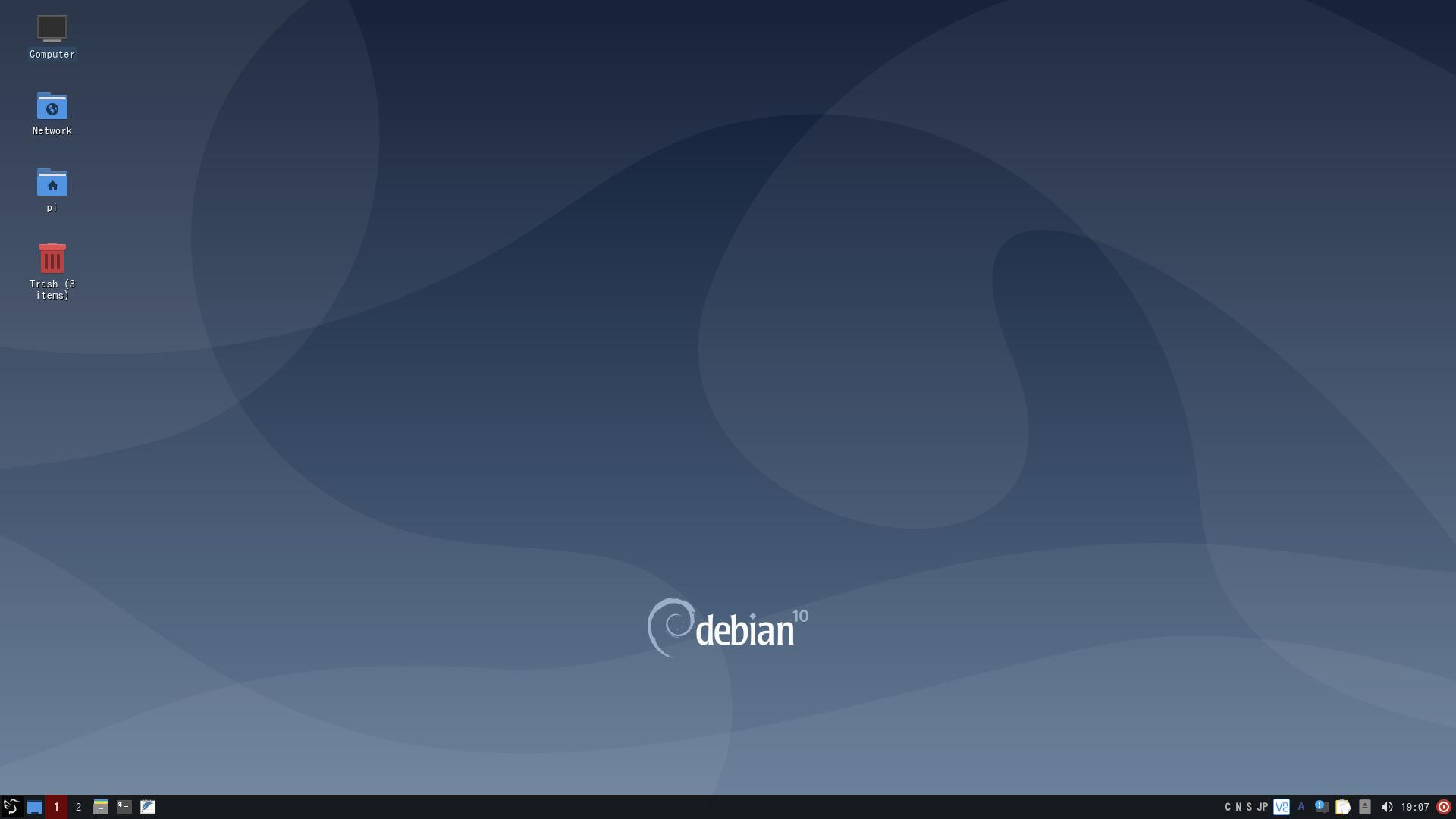 LXQT by Raspberrypi 4 Raspbien Buster
First, install your favorite window manager. $ sudo apt-get install lxqt
$ sudo update-alternatives --config x-session-manager
then you can see menu for choose desktop which installed so choose number which you like.
$ sudo reboot
I think it is lxqt when it starts.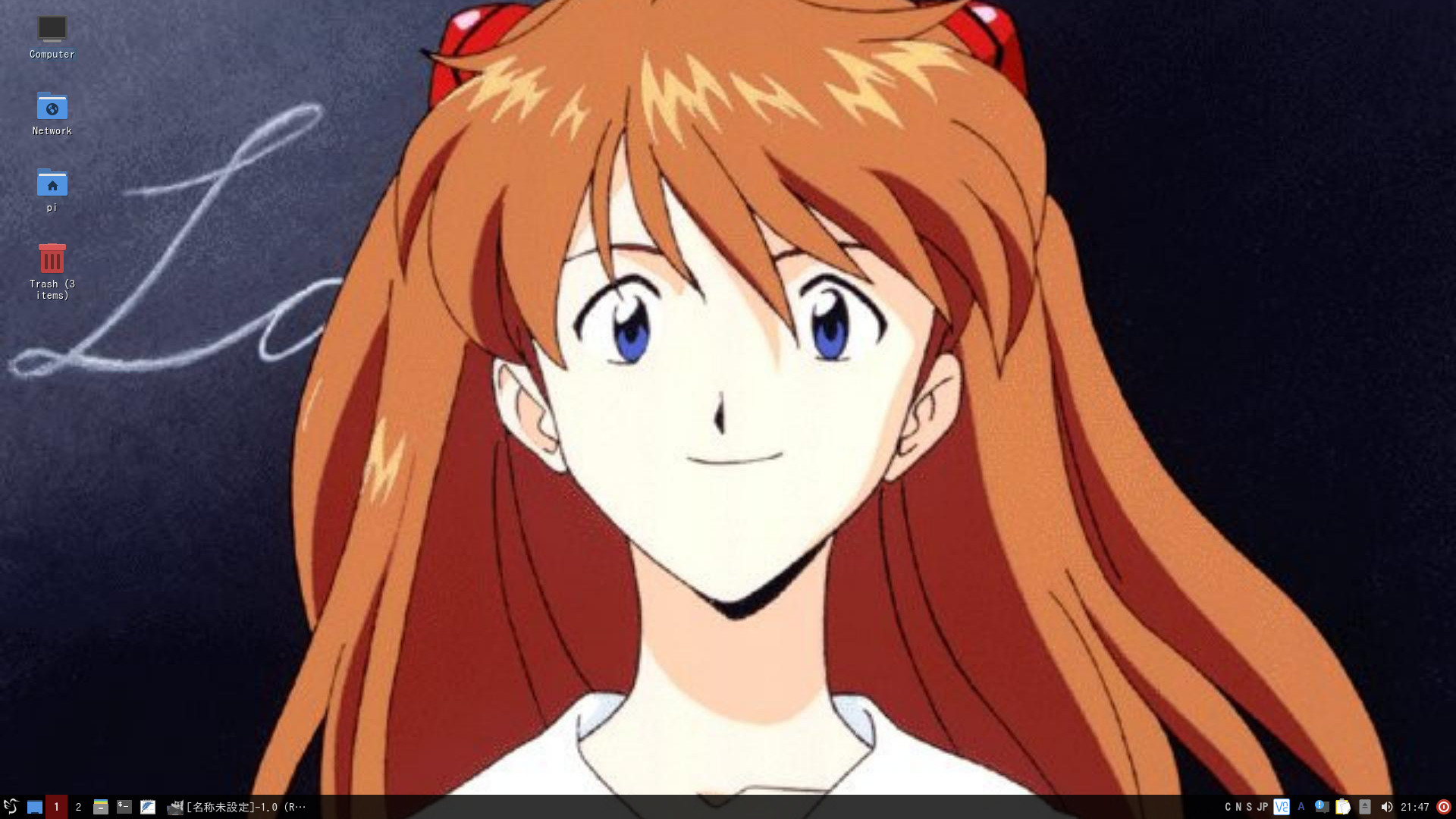 Raspbian LXQT Raspberrypi 4
Install Manjaro ARM
Manjaro ARM
I think Manjaro ARM is very light, but Raspbian Buster doesn't lose, I think both are pretty good.
LXQT manjaro linux arm does not get repository. so can not get correctly .stop over LXQT Manjaro ARM.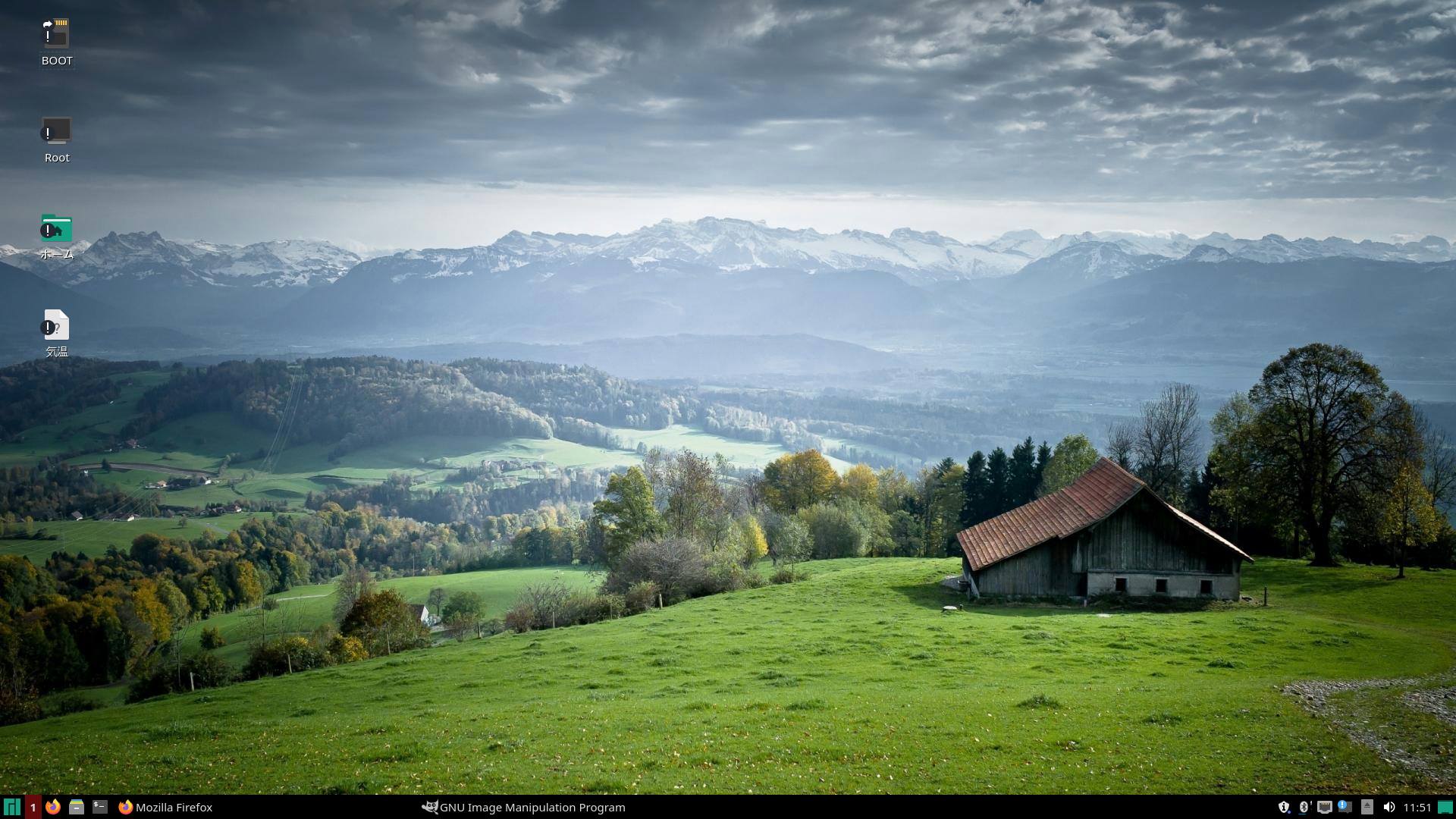 Manjaro ARM LXQT
The latest Raspbian and the latest Archlinux have mpd 0.21.5 or higher. DSF playback is converted to PCM as DoP without any special settings. We recommend using the latest Raspbian.
USB of Raspberry pi Zero is broken
Two months ago, I brought Raspberrypi Zero to the company. It was a bad idea to show off. However, it was pushed in the train and the USB jack was bent and removed.
This is also very weak with Raspberrypi 3B +. There are rumors that this seems to be made in China. Is Made in UK a lie? What is it?
I finished my work at the end of the year, so I thought I wouldn't do anything, so I installed the USB A jack. I think this will work.
but I found some smart man do it same and very smart so I will show you next site. if some one interesting on same way please see his site.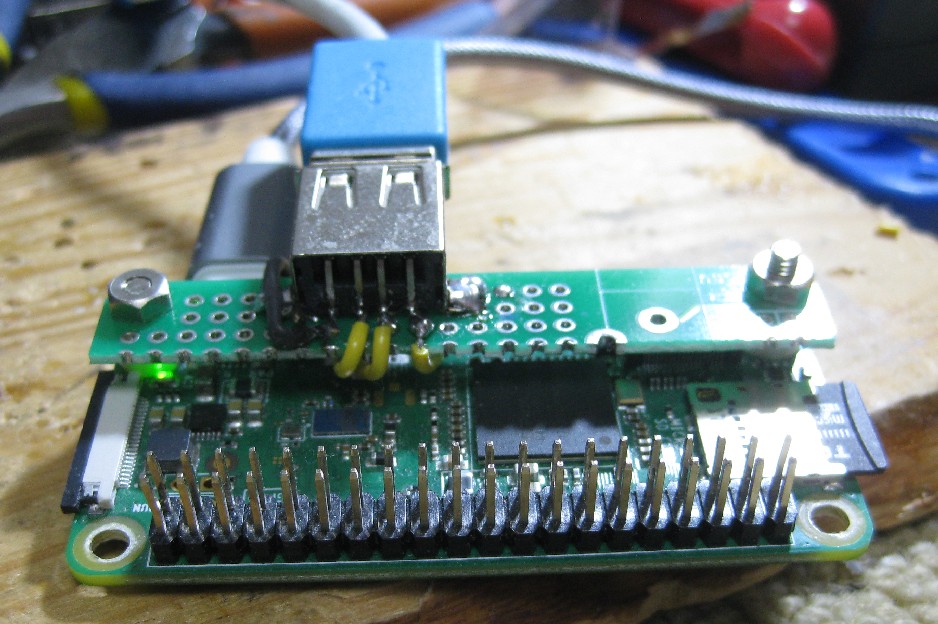 USAB A type installation
How to use streamripper
Extract the URL from Webradio and use $ streamripper http:// URL  -u 093800 -r -R 2  http: // URL.
Now you can save your music.
Volumio2 mpd update to 0.21.6
Volumio 2の mpd update Volumio2 update mpd
Raspberrypi 3 A+ I2S DAC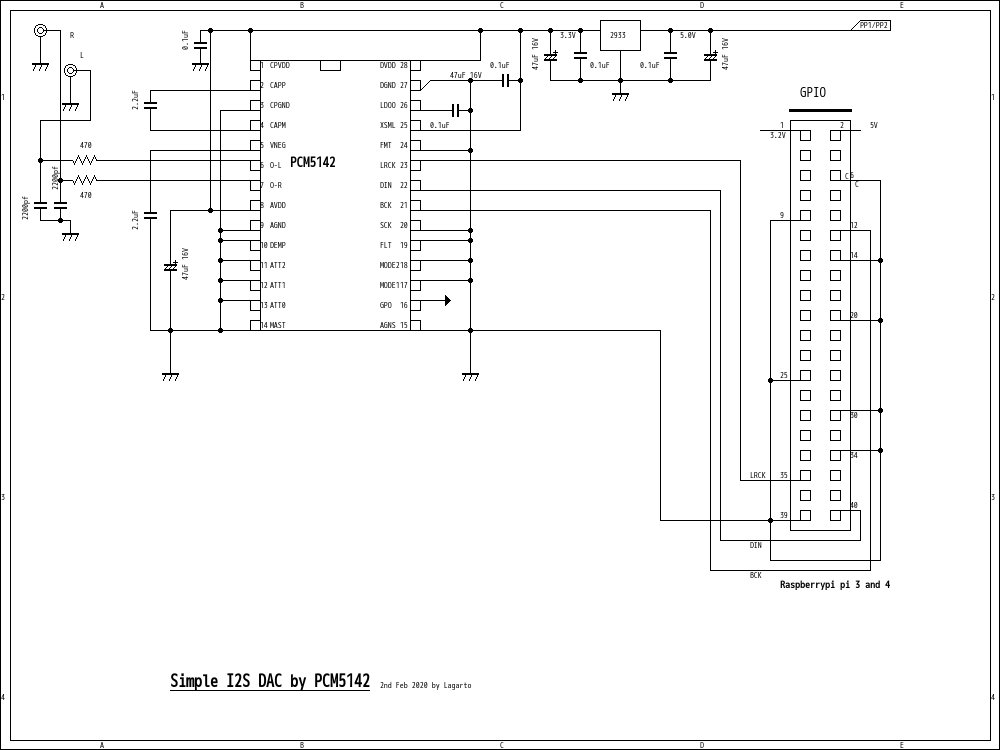 this is not special but simple is good I2S DAC for Raspberrypi 3 A+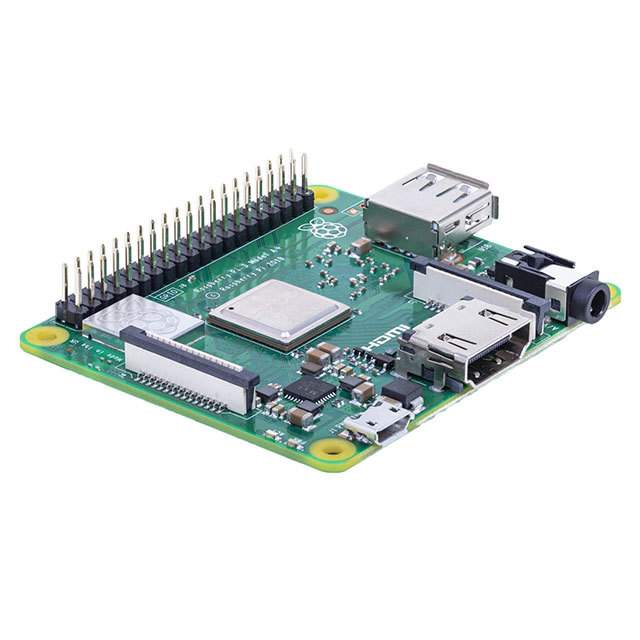 Raspberrypi3 A + dont buy ,,does not have LAN PORT
Do not purchase Raspberrypi 3 A +. There is no LAN port
A monitor is required because there is no LAN port. You also need a USB hub. Basically the same as Raspberrypi Zero W.
Please purchase by looking at it because it is wrong when you buy it on the Internet. be careful.
This type should be called an improved version of Pi-Zero.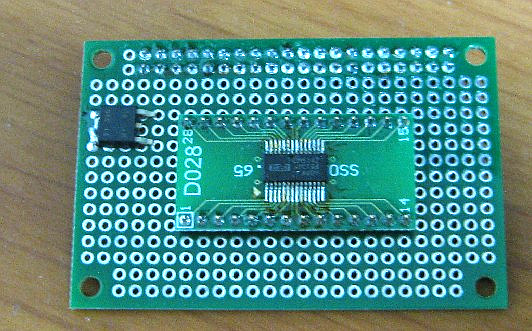 Simple I2S DAC Start make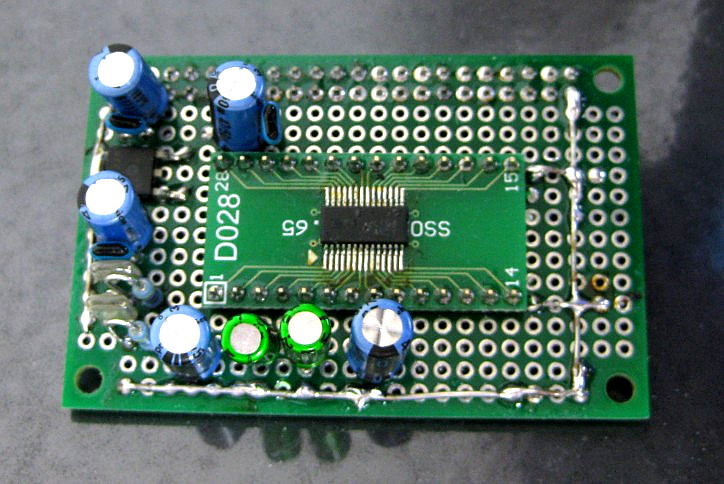 Just mounted components
Ampache new Client for Music Server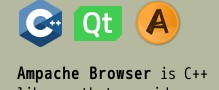 Ampache Client for Music Server for Linux
Easy NAS by few component on home LAN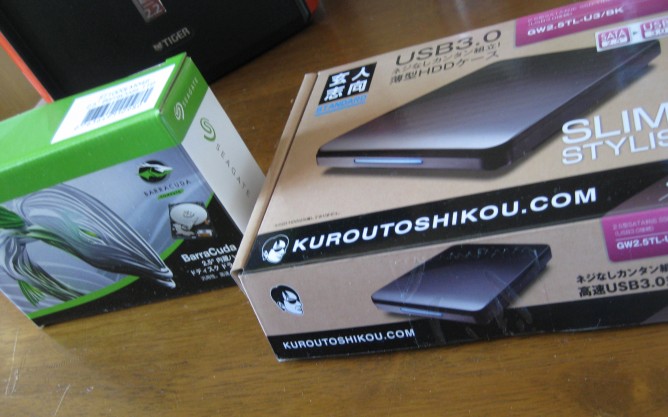 SATA 2.5 inch 1 tera and USB/SATA Adaptor made NAS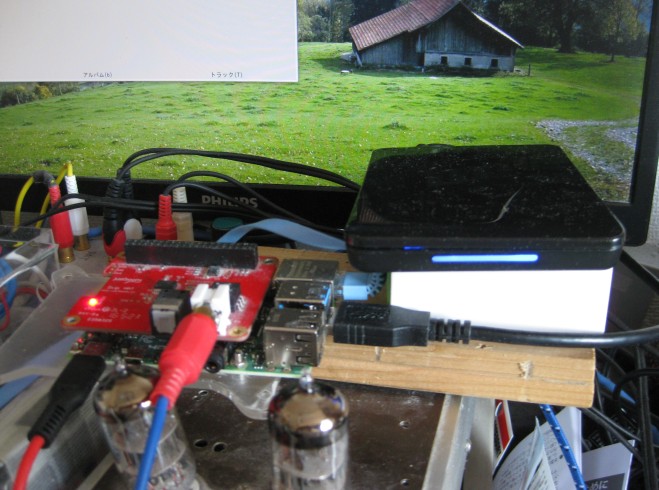 If possible mount good box for NAS
Easy NAS is using by any Raspberry pi from 2B to 4. with Home LAN. may be can be use file server to even can be use
back up of windows work station and any PC.even can be use file server and using OS are Volumio2 and MoodeAudio.
without raspberry pi SPDIF out from single board PC
Pine 64 has SPDIF OUT. SPDIF can be used with Volumio2 Pine64.
Nano Pi Neo2 has SPDIF OUT in the same way. You can output SPDIF without adding anything on this board.
Do not touch Manjaro Linux. Incomplete distribution. The repository is dead cannot install
Repositories that are very difficult to change to Japanese have been removed, and Japanese has been removed from the base application. There are many repositories, but they have been deleted
I just want to be able to get the image, but I can't install the update because I can't update, and so on Runeaudio too.
I'm not sure if the home is poor, but it seems to be a distribution that individuals are doing for their hobbies. I'm sorry. Terminal location is unknown and commands cannot be operated
Recent Linux seems to have imitated Windows and has a hard time finding a terminal. The menu composition is childish, and this is published in a regular distribution
I don't want it. I am very sorry that it is a very good distribution. The database management is probably not good. Raspbian Buster is very good
We recommend using Raspbian. The same applies to the ARM version of Fedora Core. I can't install it satisfactorily. I feel like a distribution where individuals are just hobbies.
x86 has been giving me errors for a long time, and it's a shame that it doesn't seem like a hobby-only distribution that doesn't improve anything.
Kali doesn't work satisfactorily either
I think this is a shame to say this is a legitimate Linux distribution. I hope you don't announce this in a personal distribution.
Gentoo Linux for Raspberrypi 4 by Miss Sasaki

Miss Sasaki's Gentoo Linux for Raspberrypi 4

Get Appilication Miss Sasaki's Gentoo Linux for Raspberrypi 4 from GitHub thank you miss Sasaki for archive

Arm Archilinux install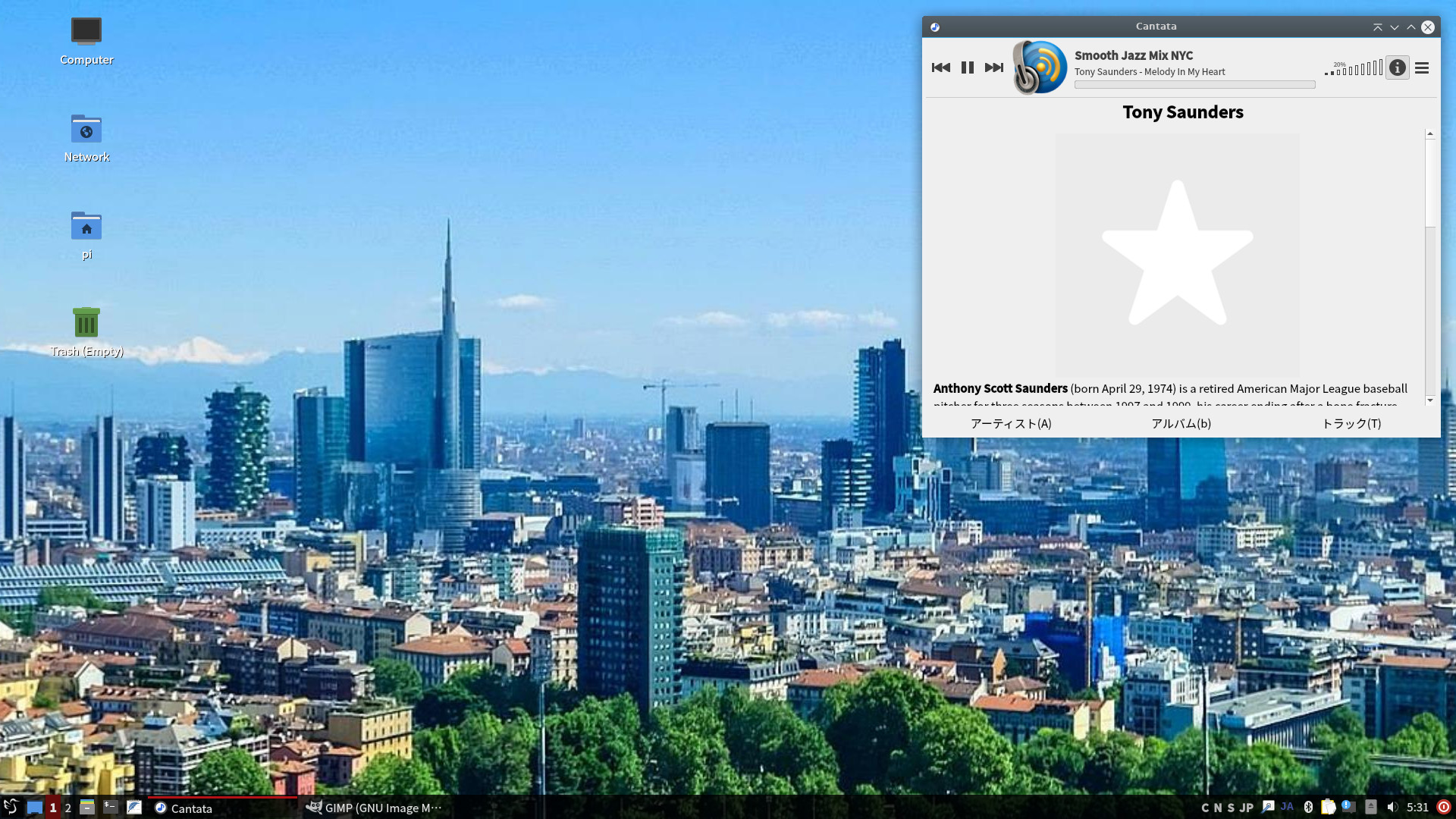 LXQT by Raspbian buster on 7th Apr 2020 under Raspberrypi 4 B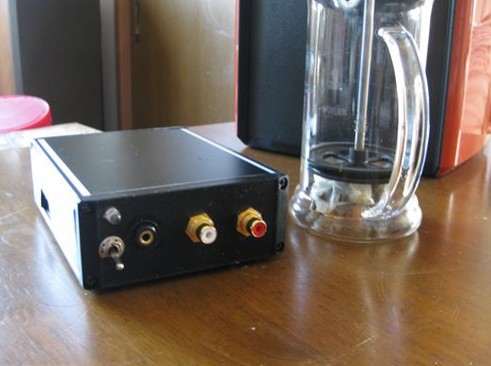 Raspberrypi A+ + I2S DAC inside under Volumio2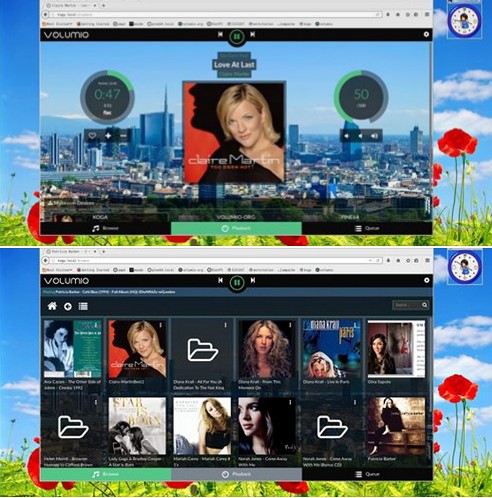 Volumio2 by raspberrypi 3 A+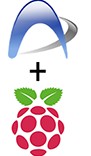 Archi Linux install into raspberrypi 3 and 4 and easy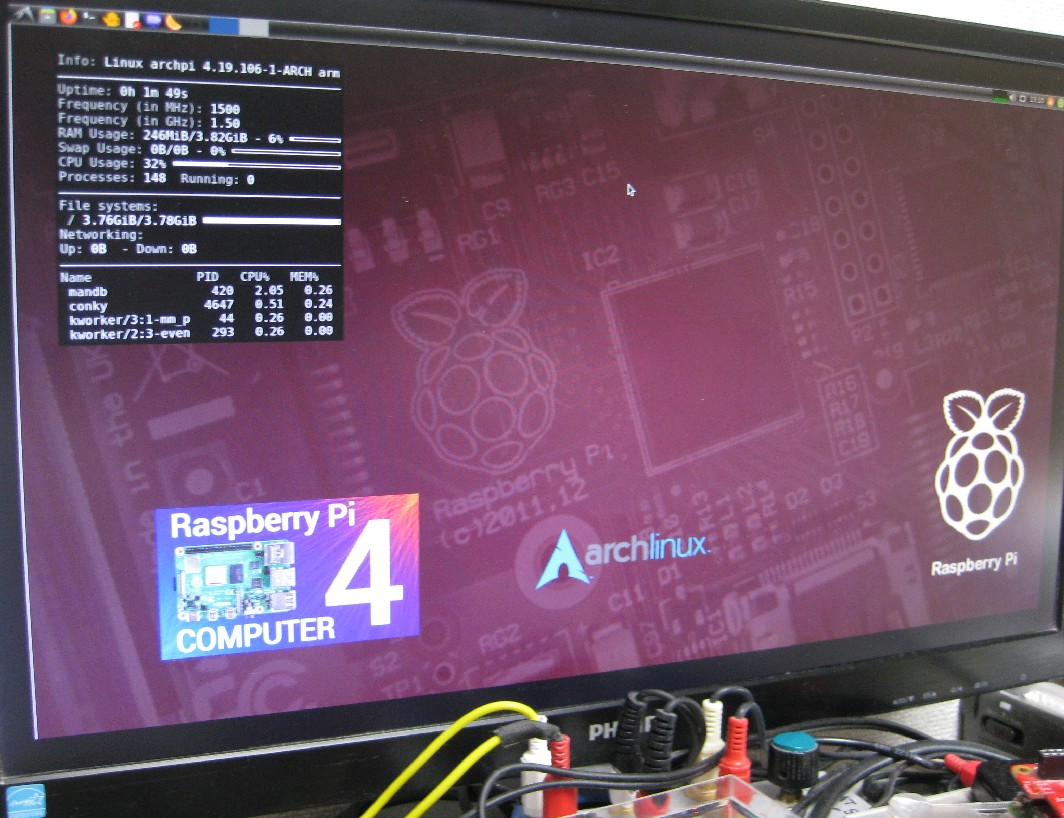 Archilinux for Raspberrypi 4 by RaspEX
Note: Miss Sasaki's Gentoo Linux for raspberrypi 4 Linux is very much fine to use and very light please try it. you can use as work station for at home
and very much easy to install your raspberrypi 4 with Gentoo Linux and desktop is only XFCE4 but you can install any window maneger too.

Raspberrypi 4 Archilunux Zip By Mikker...I never know who made it's Archilinux for Raspberrypi4 ,easy to install
be carefull ,they asking PGP Key so add PGP Key ,read carefully enter PGP key. then start agan up date.by pacman.

SSH from WorkStaion 64bit PC/FC26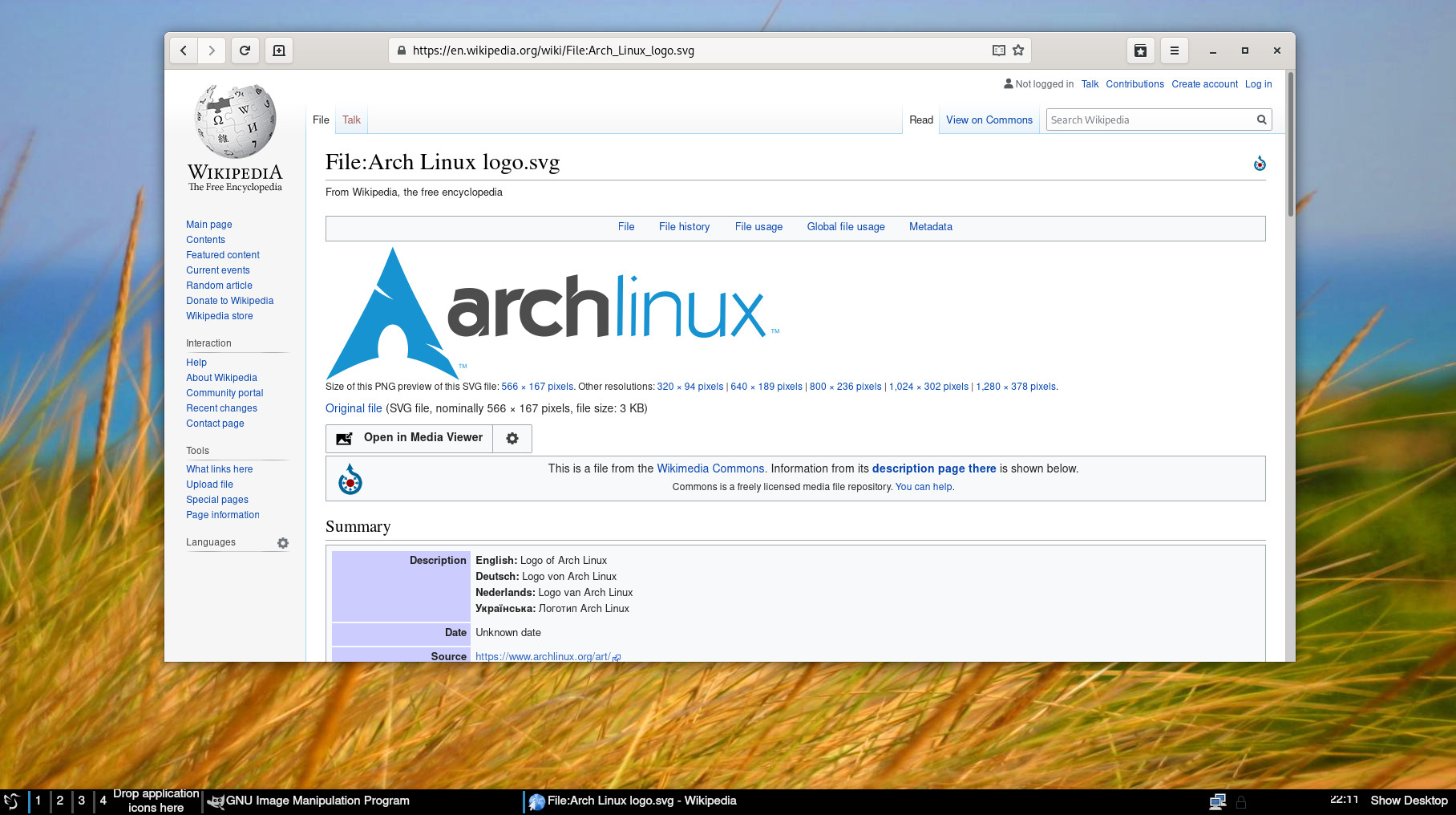 Archilinux for Raspberrypi 4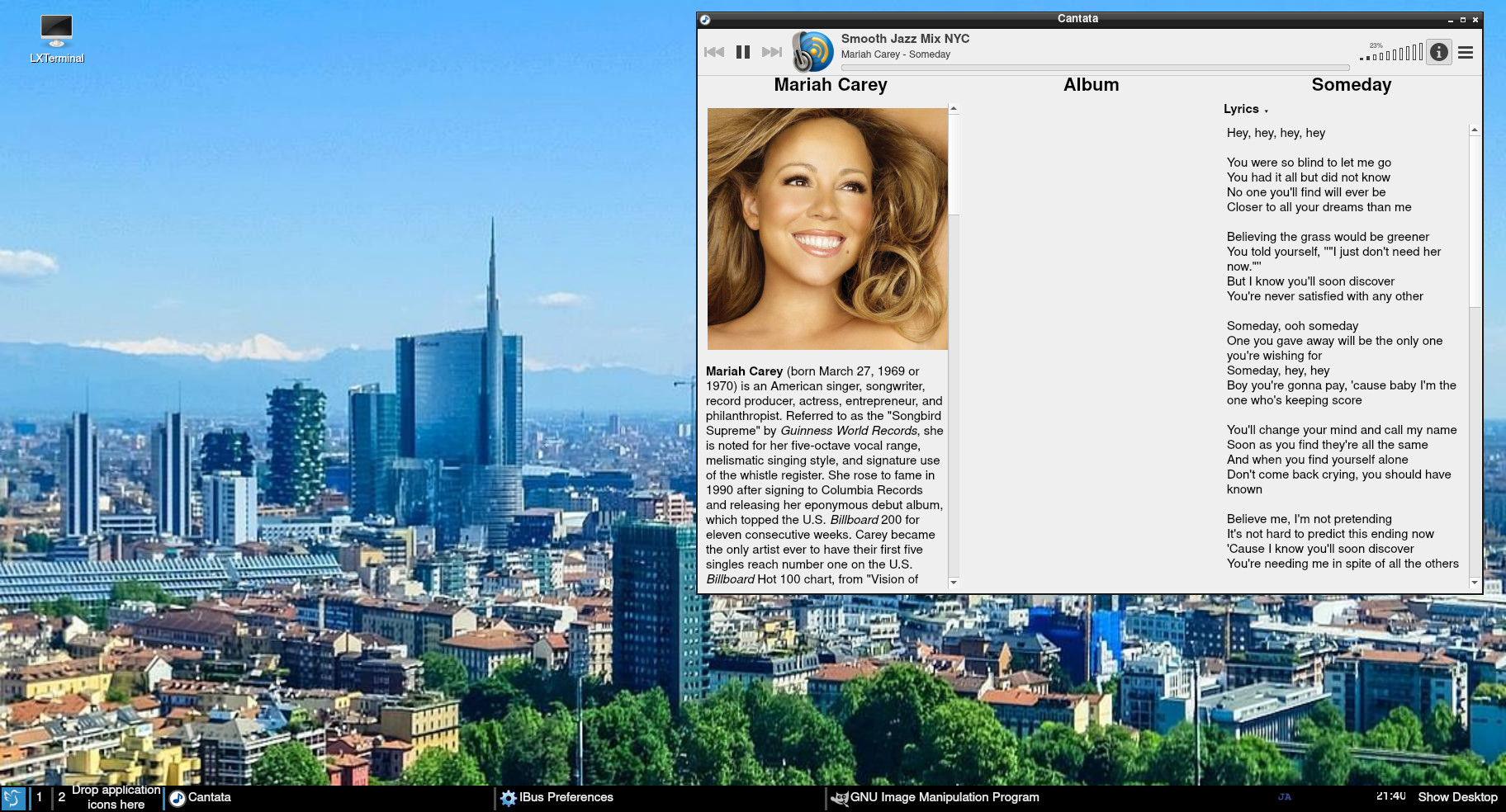 Lxqt Archlinux for Raspberrypi 4 show cantata on 12nd April 2020 very fine to use at home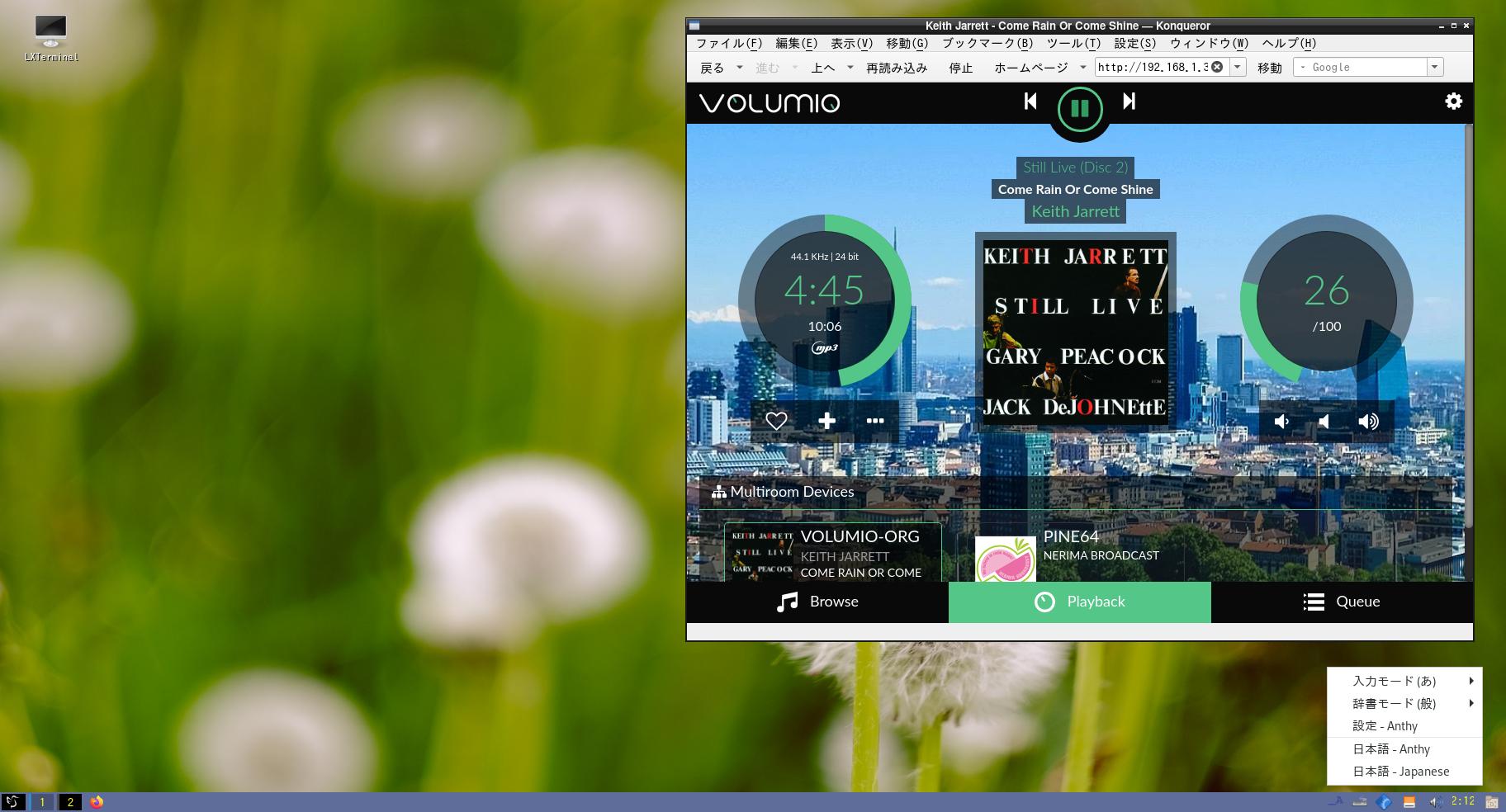 Raspberrypi 4 by Archlinux 15th April 2020
I had a hard time installing sudo, such as installing yay and getting sudo. If you can not do this you can not install yay, if you do not use yay you need to uninstall
If there is, there is a possibility that there is a conflict and it may break the system. ArchiLinux does not pull in the archive depending on the time, so it is better to install it on the other side of the earth at night.
It may be good, and if possible, it might be good to add a repository in Japan. As for usability, I think that Raspbian will give a total score if it includes freedom.
I think Raspbian Buster is more sophisticated. Since it is a Debian system with many users, it is also noticeable that there are many detailed and polite applications. archilinux is similar to slackware
Similar to OS. ArchiLinux is said to be an OS specialized for audio systems, so I would like to use it for audio systems.
Raspberry 4 Archilinux with Cantata mpd Client
Audiophonic by Raspberrypi 4 and 3

Emacs works on ArchiLinux of Raspberrypi ARM. When emacs is started from the terminal, the command line (minibuffer) works and I cannot input.
For example, C-x C-C is input, but -C becomes katakana
In other words, C-katakana 1 character is displayed and input is rejected. Middle half When I gave up, that is, if I thought that I would use amateur Linux such as Archilinux like this yakuza, with the start command
$ emacs-nw Now emacs of normal operation is launched. This phenomenon does not appear in SSH etc. Starting from the icon is OK, but the command is not accepted from the terminal. In other words, it cannot be finished.
: I installed emacs on Raspberrypi 4, but I can't use it, is Archlinux done? This is where I thought, $ emacs -nw. This is OK.
Let's use Alias ​​because I can't hit it like this. From the command line
$ alias emacs = 'emacs -nw'
With just this, you can register with emacs. You can now enter it normally and finish normally. You can also see that Alias is a very useful command.
must be write into .bashrc so automaticaly can use emacs.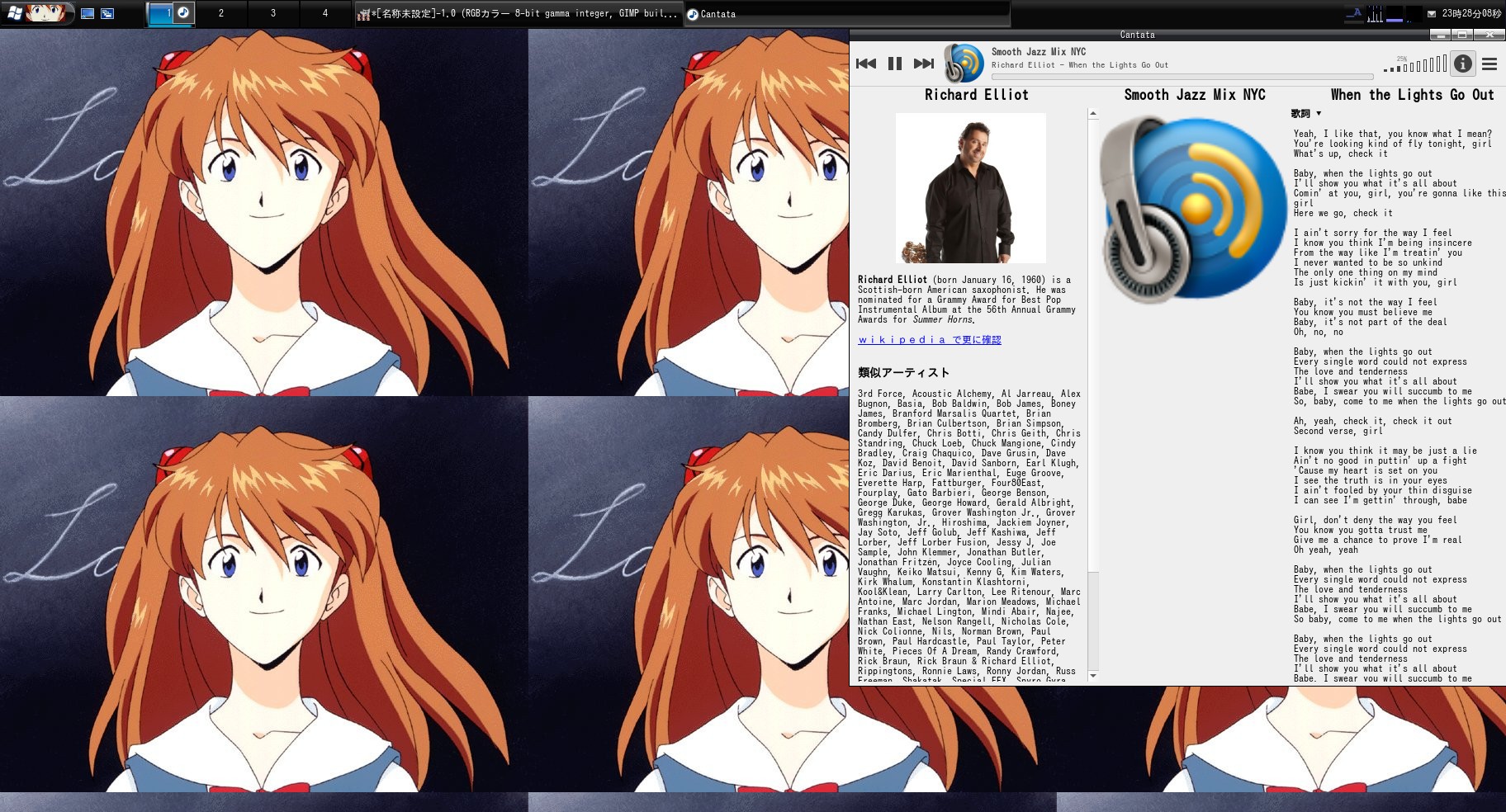 ICEWM archilinux After all, any window manager was heavy and made ICEWM.
Archilinux ARM doesn't recognize Bluetooth, I can pair, but I can't connect. This is the current issue. You can do it with Raspbian Buster.
Archilinux It is said that the sound is good, so I'll use it in a music system. You lose the convenience of Raspbian Buster.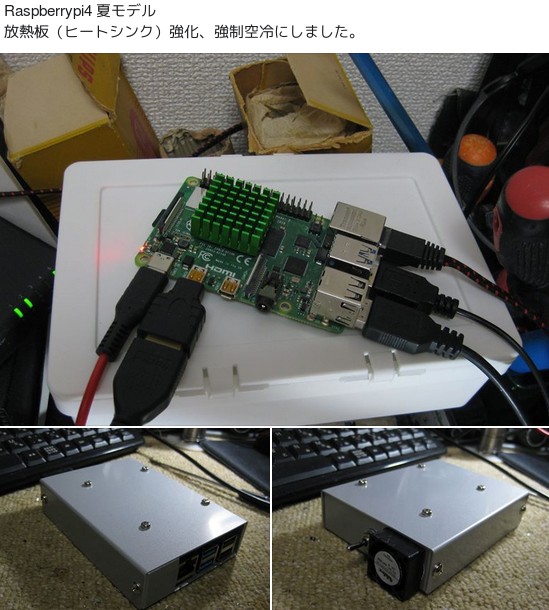 Summer Model heatsink is a little bit big for summer time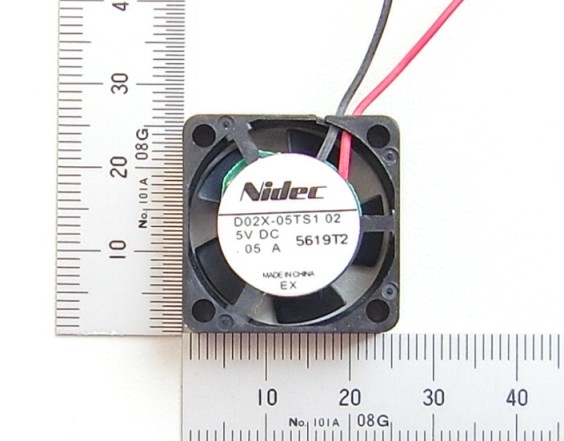 It is quite effective. If it has a DAC, noise will occur unless the power supply for the FAN is secured.
Raspbian Buster 's cantata (mpd) does not show cover picture .
so I got source file from Github I got cantata 2.4.1 version.
need compile .and libraly qt4 and qt5 and C++ Cmake.
$ open source
$cd source name
$ mkdir build
build $ cmake ..
$ make
$ make install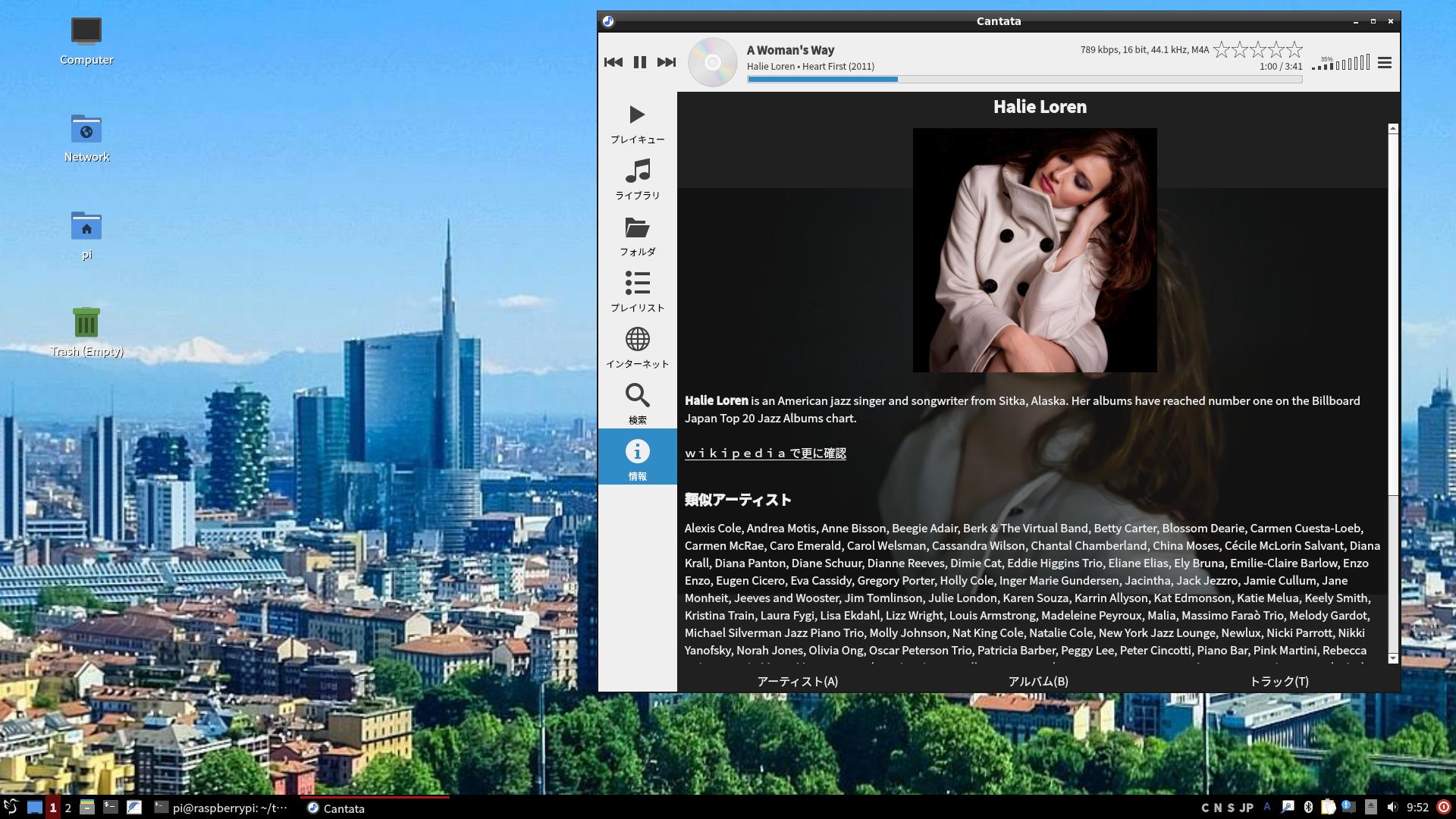 cantata 2.4.1 for Raspbian Buster .show very fine cover picture
this cantata is version git version and complile then install Raspbian Buster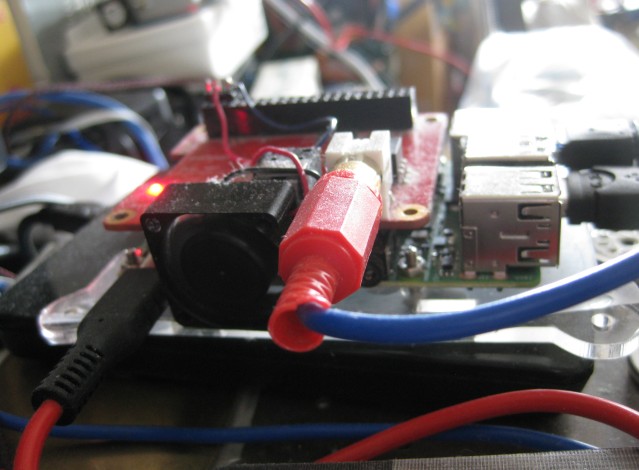 added small USD $ 1 's FAN for Raspberrypi 4 no more heat up
Nothing problem to use in summer time. not up to more than 35 C degree .if no fan ,,going up more than 110 C so getting noise
then broken down music server.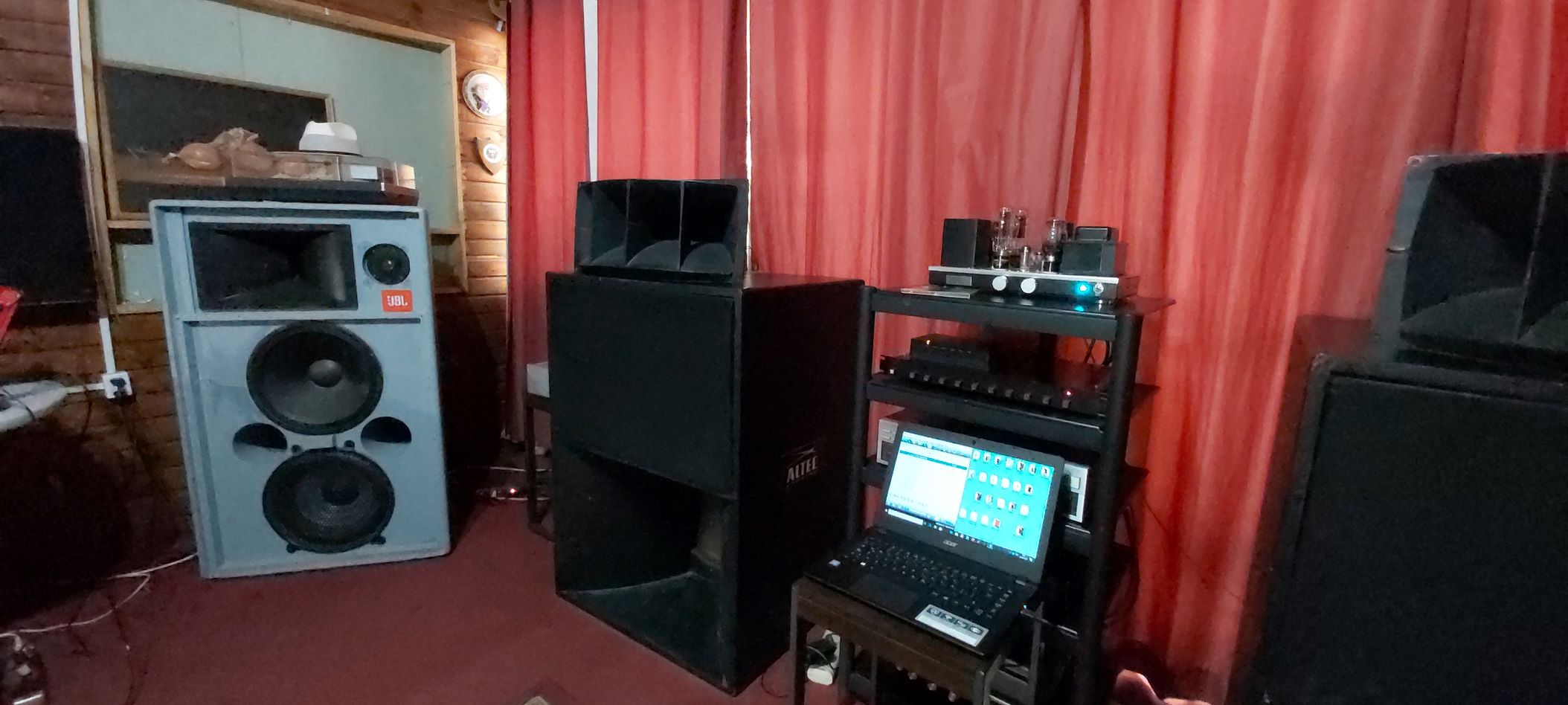 Hifiberry Pro and Hiend Audio in Lampa Chile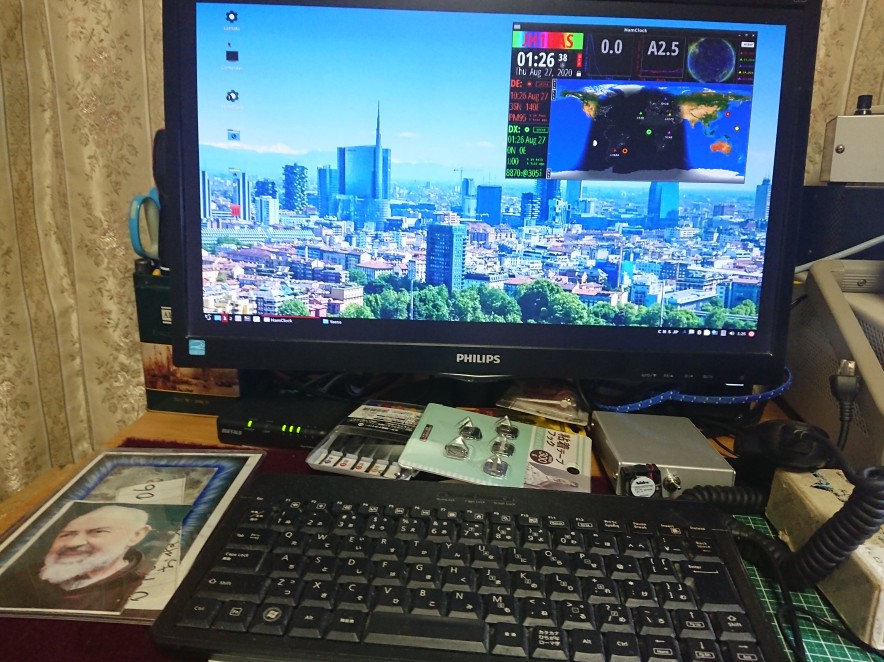 Raspberrypi 4 Work Station Raspbian Buster
Can watch Netflix by Raspberrypi 4 B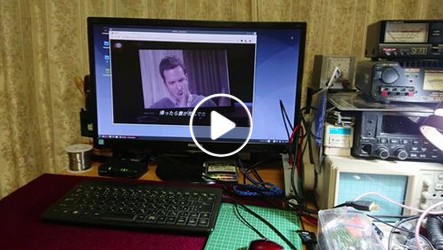 doing watch Netflix by Raspberry pi4 B 4Giga type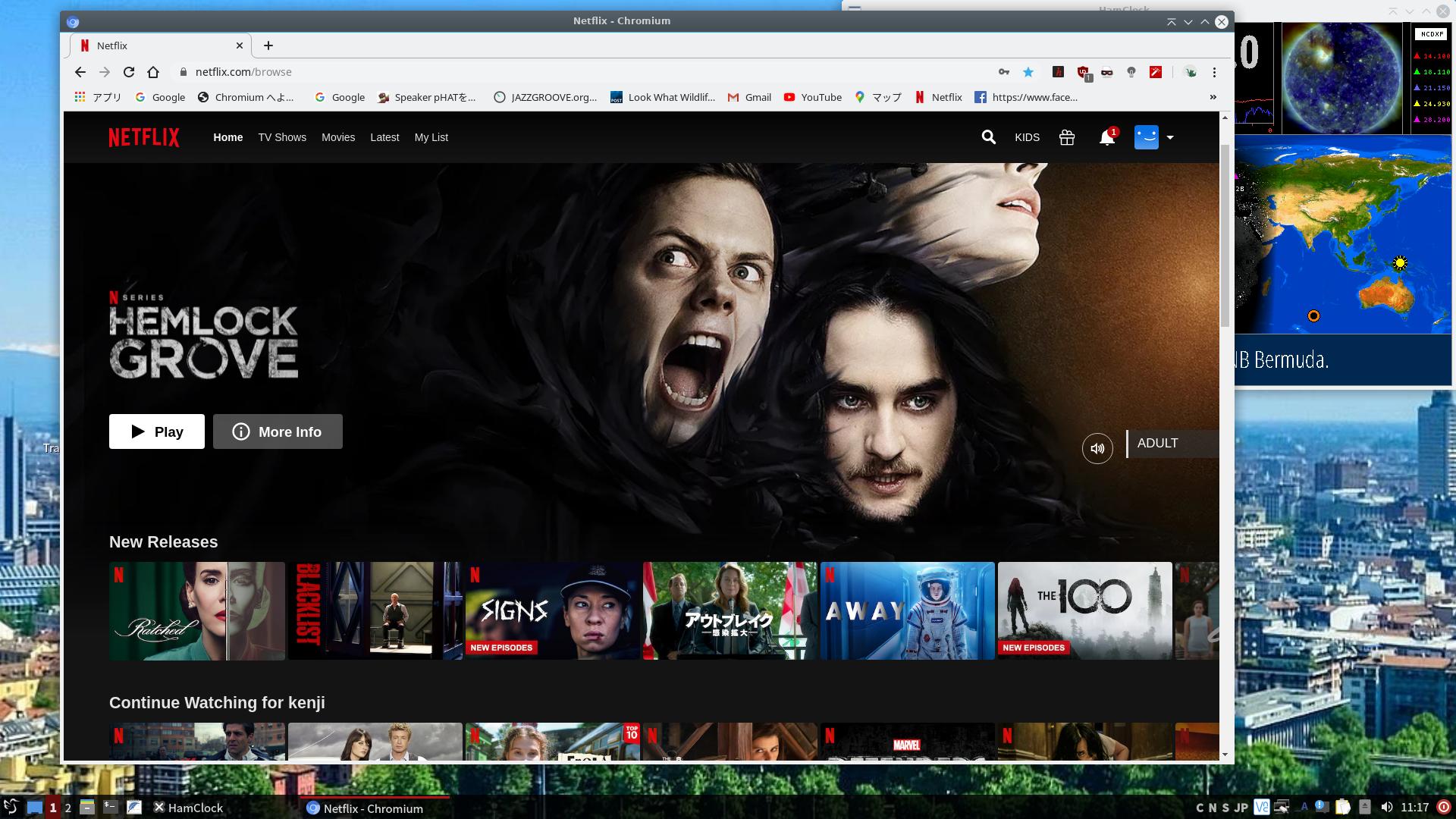 $ sudo url -fsSL https://pi.vpetkov.net -o ventz-media-pi
sh ventz-media-pi

That's all. can watch Netflix by raspberrypi4 B under Media Edition mode by Chromium latest version of Raspbian Buster.
The sound is from where, from the HDMI output. You can get sound from HDMI by setting hdmi=2 in /boot/config.txt,
but it's not very good sounding, so you might want to use a DAC.much better.but not so bad.

That's it. Now you'll see an icon that says "Media Edition" in the chromium. Click on it and you'll be able to play Netflix.
You can also play hule. Raspberrypi4 has become a considerably usable PC by the positive development of the surrounding application.
I think it shall go.
The sound is from where, from the HDMI output. You can get the sound from HDMI by setting hdmi=2 in /boot/config.txt, but it's not very good sounding, so you might want to use a DAC
I don't know, in that case, you'll need a driver. This is done by installing a temporary relay server in your home directory and reading the information from it with chromeium.
I think the same thing is true for a normal x86 Linux PC. The same is true for a regular x86 Linux PC, and the same is true for the Raspberrypi4 B. This handshake application is
This is the Ventz-media-pi file. This file seems to let us watch Netflix on x86 PC Linux with no special handling of Chromium
You can play NetFlix,Hule by. However, the recent Chromium update enables the playback of DRM.
Hule by raspibian ,The above operation from the terminal has installed a script called Venz-media-pi in your home directory. Here's what it looks like.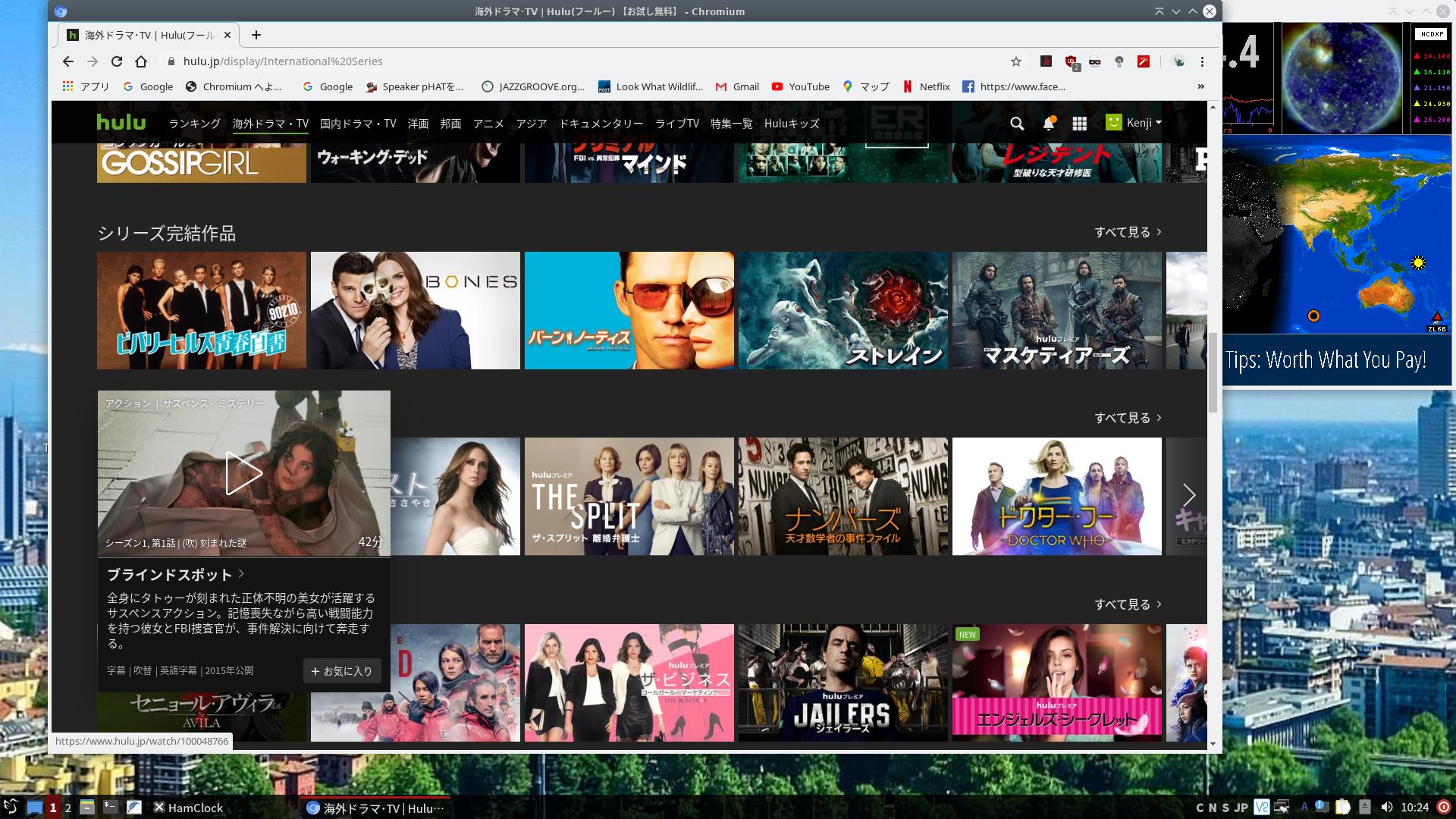 Hule on Raspberrypi4 B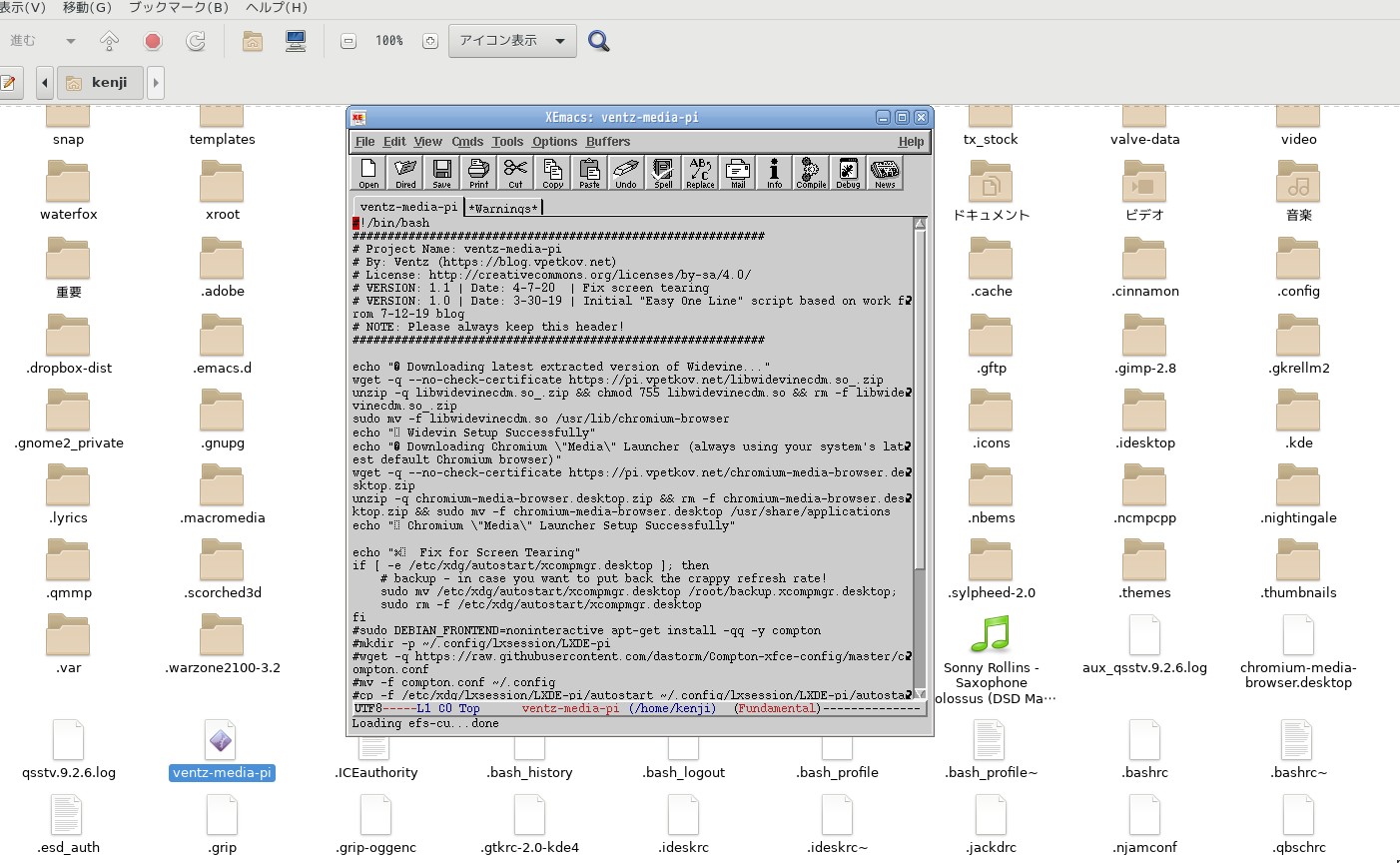 The above operation from the terminal has installed a script called Venz-media-pi in your home directory. Here's what it looks like.
Image showing details
An image showing the details is shown below. The first one is how to get the sound out of the HDMI and the second one is a view of the Media Edition, displayed in GoogleChrome.
I clicked on this Media Edition and got this Media Edition in my browser.
You can watch pay sites like Hule and Netflix, Amazon, etc.But You can't watch Youtube, so you have to use a normal browser. The protocol is different.

.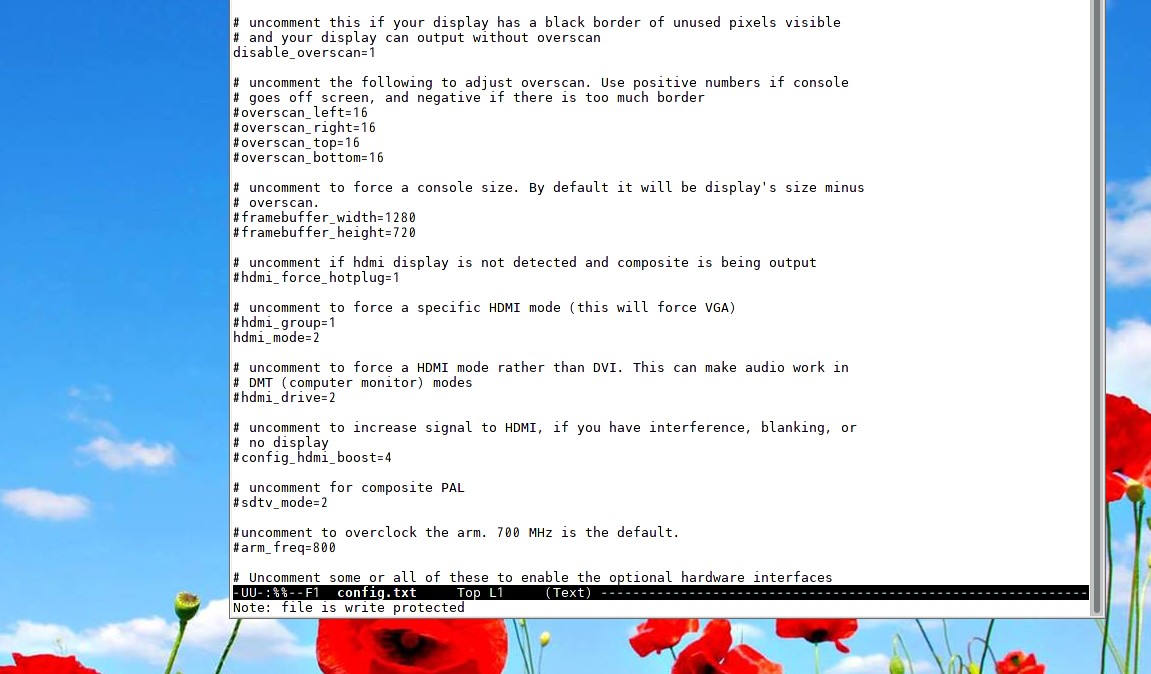 Editing config.txt in ssh for sound from hdmi out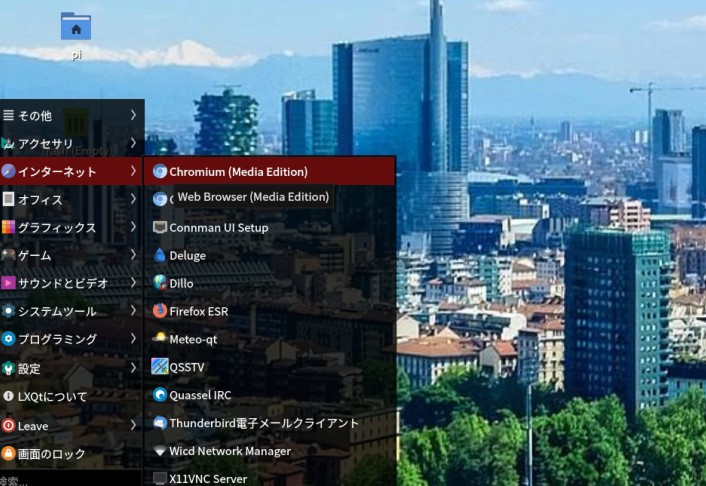 Google Chromium Media Edition has been added.
In this menu, the Firefox ESR icon does not come from the Firefox installation, but from the Iceweasel installation, ICEWEASEL=firefox ESR.
It is also possible to install Fire FOX ESR separately. We recommend you to search and install it.
I want to use Qtbsch on Raspbian, but I can't use it. It's an X86 application.

I'm not sure if it is easy to use, but there is a free application called LibrePCB. It's relatively easy to install for X86.
In this case you will have to download the script and install the application in the Root or General User. There are many paid applications that are available, and I'm sure this one is well done. . Installation of Libre PCB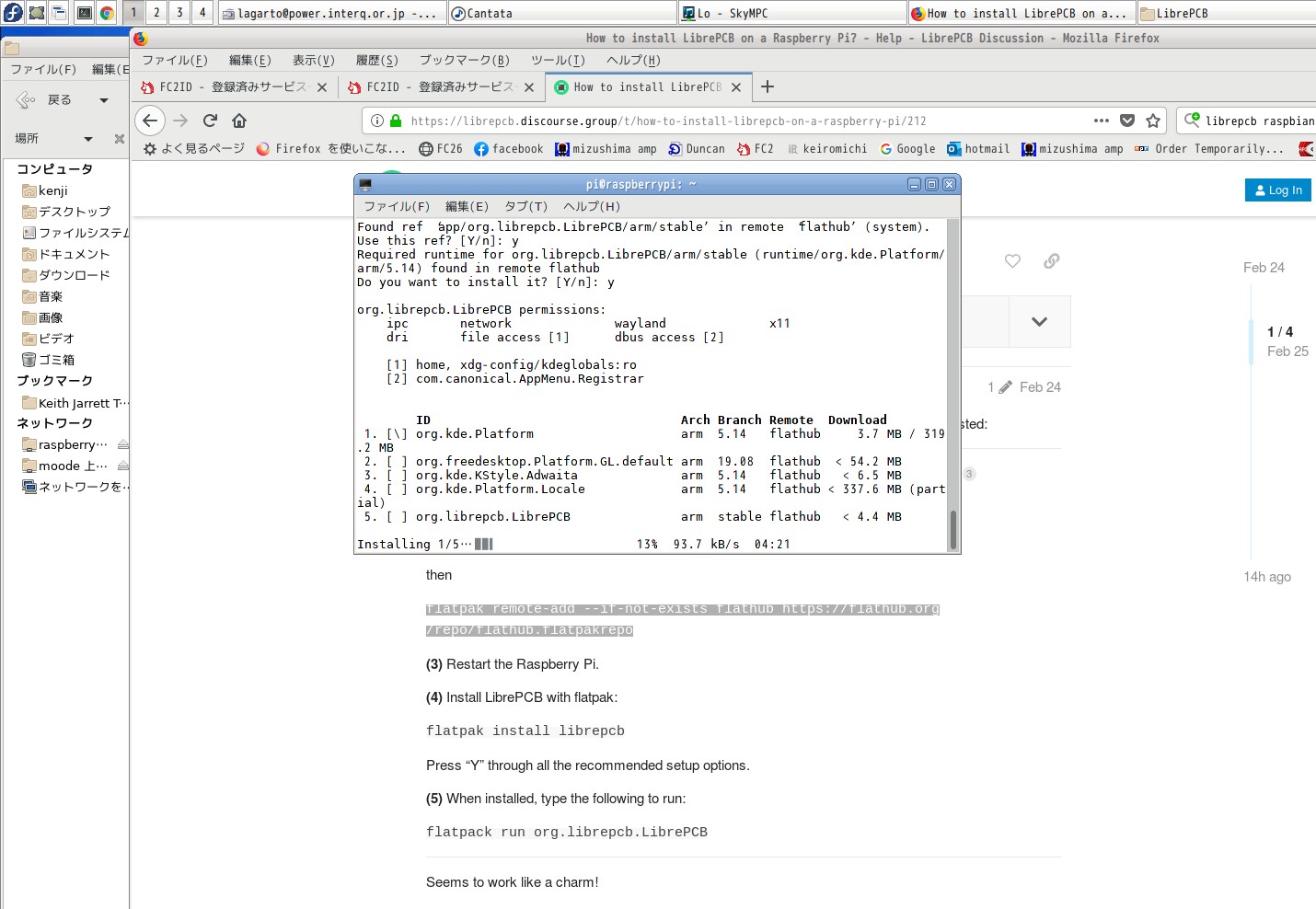 Installing with ssh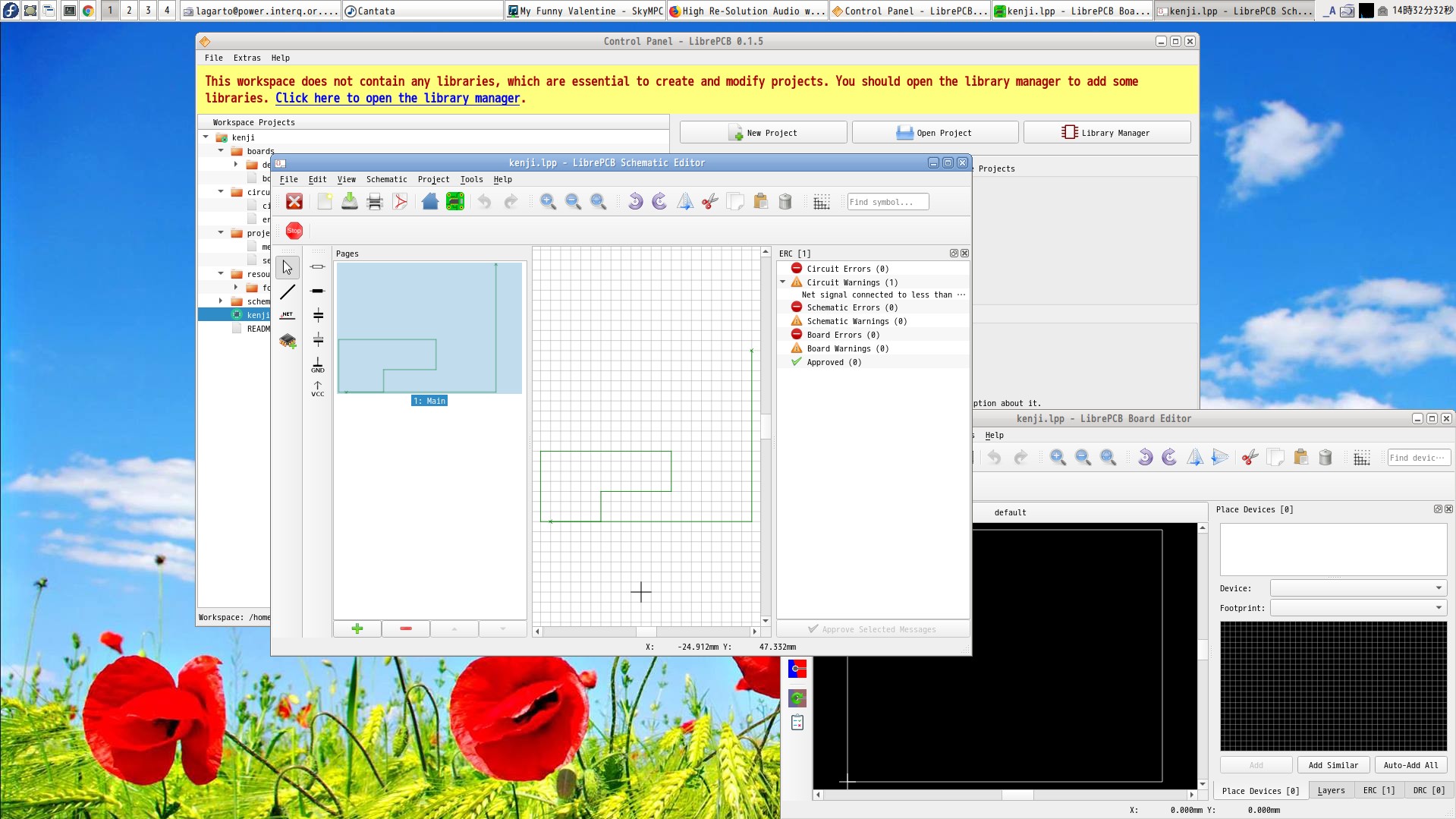 Libre PCB oct 2020

Kicad Install



$ sudo apt-get update
$ sudo apt-get install kicad

Raspberrypi digital out without HAT

Raspberrypi does not have audio analog out .because originally pwm out then low passfiler by active filter IC ,then get Audio.please see nex URL

digital out from Adafruit idea

detail of digital out idea from Adafruit

Circuit Editor for Linux by Kicad is best


You can use Qtbsch for x86, but these applications are not available for Arm processor PC .so have to choose the other side of application.
Kicad is good for raaspberrypi work station. Kicad is family of KDE and Plasma so have to install plasma desktop into Raspbian.
$ sudo apt-get update
$ sudo apt-get install kicad
that's all.and you can use by Raspbian

Show Kicad by Raspberrypi 4 Rapbian buster

How to use Kicad

SPDIF using without HAT but not raspberrypi family
SPDIF without HAT board by Nanopi-neo and Pine 64

Select your DAC from Overlay

For Raspberry pi, you can select the I2S DAC by editing /boot/config.txt. The driver is in /boot/overlays/ and you can use your DAC by editing the config.txt file.
You can use Nano or Emacs to edit them. In my case, I use Moodeaudio, which looks like this
pi@moode:/boot $ cat config.txt
disable_splash=1
disable_overscan=1
hdmi_drive=2
dtparam=i2c_arm=on
dtparam=i2s=on
dtparam=audio=off
dtoverlay=justboom-digi
#dtoverlay=pi3-disable-wifi
#dtoverlay=pi3-disable-bt
Hifiberry is expensive in Japan, so I use justboom-digi, and the DAC is a homemade 198Khz 24-bit DAC. I'm very happy with the sound. RuneAudio 2020


For Raspberrypi Zero ,2 and 3 and 4 Down load URL but thaird party

Try again doing build up I2S DAC 9er Dec 2020



how many times do it's I2S DAC

Circuit diagram creation application for Raspberrypi 4 Raspian
I tried using various applications for ARM, but all of them are difficult to use, isn't it easier to use? There are quite a few digital circuits, but I don't have a library of vacuum tubes. For X86, Qtbsh, Calduas, etc. are very good, but
On ARM, these applications can't be compiled, I think Kicad is good, but it's complicated, so let's use Inkscape here. I think it's very good. The library contains the parts of the schematic made with Qtbsch, which are commonly introduced.
I will use it. Since these can be saved as png originally, make a lot of parts library of PNG file. Cut out the schematic parts and save them with a PNG extension. After that, I will create it with Inkscape. It lacks the freedom of QtBsch,
Well, there is nothing that can't be used. Save the library as SVG or PNG. The save directory is under .config /inkscape /symbol.



Circuit diagram drawn with Inkscape h5>

For LibreCAD Arm
KiCad is complicated to create components, and even if components are created, detailed settings cannot be made. Basically, since it is CAD for PCB, I think that there is no freedom to create a circuit diagram. I think Inkscape is easier to use.
The component still needs to be crafted with other image editing CAD. There is a drawback that it cannot be saved as a part. There is no better CAD than QtBsch, but since Wine cannot be used on ARM PCs, it is an application for Windows.
cannot be used. Let's use LibreCAD. You can install it with $ sudo apt-get.

For Linux, copy the system library into the home directory. It will be .config /inkscape /~. The library opens commonly used schematics in GIMP and displays them in Inkscape.
Make a copy of the library from the schematic. The extension at that time is SVG. If you copy the symbol of the part into the symbol set, it becomes a library of electrical parts. Then draw a schematic using Inkscape
I will go. There are problems such as how to draw lines, but I think it is a usable tool. Once written, save it as SVG or export it as PNG. gEDA and gschem
The Tool closest to Qtbsch was found.
$ sudo apt-get update && apt-get install geda pcb gerbv
In other words, there was a gschema. It is a circuit diagram Editor that I did not notice after installing it before. You can edit the library lightly, and the lines are easy to stick, so it is a circuit creation editor just like Qtbsch. Lighter than anything else
Also, it is said that you can edit for PCB creation. I think you should make a lot of libraries. I think it is very good that straight lines are easy to draw.
It's basically GEDA. I think it's very light.

qcad is light.

No matter what you use, it's heavy and you can't get a straight line. Even if you can draw a straight line, the line doesn't connect. It's the same that the parts and the straight line don't connect. Kicad is complicated, it doesn't draw lines well, and it doesn't have individual parts.
I can't draw acorn-shaped vacuum tubes or circles clearly, the library is too complicated to enrich the library. In such a case, I easily lose to Qtbsch, and it is difficult to write on an ARM PC. LibreCAD and Qcad are very similar.
But I think Qcad, which has a lot of libraries, is good. The library can be created with Inkscape. If you're writing on an ARM PC, I think it's better to install 64-bit (formerly XP or Windows 7 PC) Linux on an older Intel PC and then install Qtbsch.
Qcad can be installed with $ sudo apt-get install, so please install LibreCAD and use it properly. I think Qcad is light.



Start drawing Qcad tube schematics

Editing with gEDA Circuit diagram creation


It is a circuit diagram creation by gEDA. This application is the lightest, but it is very difficult to write because I am used to Qtbsch, but I was able to create a circuit diagram. It was like this when I started using Qtbsch. The sym file is the part. The part creation application
No, so copy the base and delete it to make a new part. The attached parts are large and will protrude from the circuit diagram, so reduce the size to less than half and make the parts. First, open the file manager at the root and click on his sym file to open gschem.
There is an original part, so first delete it, leaving only the name. After that, I will patiently make parts. Save the most frequently used parts together in the tube amplifier parts folder (pseudonym). Close the root file manager and start from the beginning
I will draw a circuit diagram using the created parts. You can also draw a circuit diagram on an ARM PC, that is, Rasbian. I think that only long-suffering people can do it. I will make small parts when I have free time. The parts are
In my case, I saved the vacuum tube library in /usr/share/gEDA / tube. I don't think I'll use it because it's difficult to use, but I tried it.daefaults is black backside so can replace to white paper.
Not only Arm, but also foreign schematic editors are useless. If you want to write schematics in Linux, you need to use Qtbsch.
If you want to draw schematics on Linux, please install QtBsch on your x86 PC and draw schematics on it. If you want to draw schematics on Linux, you should install QtBsch on your x86 PC. It can't be used in applications that can't draw straight lines and intersections accurately.
I can't use it in my applications.

Rechallenge Pi-Zero W Music Server.

This PI-Zero is an Arm6, so it is slow and lacks a LAN port.
This PI-Zero is an Arm6, so it's slow and doesn't have a LAN port, so I need to add a LAN port to use it.
If you want to use it as a music server, you still need a LAN for the speed setting.
The Nanipi-Neo2 is much easier to use, but there are very few operating systems that can be used with this PC board, such as Armbian or Dietpi.
If you want to use it as a music server or for other experiments, you should use Pi3+B or higher version.
If you are looking for a music server or other experiments, please choose Pi3+B or higher version of Raspberrypi. We have found that small one-board PCs are very difficult to use.



Raspberry pi zero + USB board

Nanopi-Neo2 Music Server + ES9023 DIY DAC Volumio2 TKZ Version.
I've found this Nanopi-Neo2 Music Server to be very good sounding, and the Nanopi-Neo2 is able
to SPDIF the signal directly out of the board's port using the Dietpi Buster.






all of volumio2 by pi-zero

Using Rune audio in the background using as Archilinux Music Server.


This is Runeaudio, a 3rd party version that is very heavy and the menus are not very detailed, but it uses Addons and Cantata to serve as a music server.
It's not so much that it's difficult to build, but that the menus are not very detailed, so you need to be familiar with the normal RuneAudio to get it to work properly.
So I use Cantata and SKYMPD together. I don't use Webui, only the mpd client.Music Player Daemon 0.22.4

Cantata is so easy to use that it can be used as a fully featured music server for Archlinux.

control by cantata and install radio by comand line sound is very much good archilinux sound


This operating system works by editing mpd from the SKY MPC and ssh command line. In other words, the detailed settings are configured using ssh. You can check the operation with runeaudio's WEBUI, but
I think cantata is the easiest to use. This is the fastest way to use RuneAudio. The sound is Achilinux sound. I use Moodeaudio as my NAS.

The Moodeaudio has a 2 tera hard drive, which I mount with CIF. If the connection is stable, this will allow me to transfer music from other servers to this one.
You can listen to music from other servers through this Archlinux music server.
# mount.cifs //192.168.1.2/a4C0-f0f0 /mnt/MPD/Music -o vers=1.0 iocharset=utf8
You can now load the music files from the NAS. For the internal share holder, type # chmod 777 /mnt/MPD/Music or similar from the command line to grant permissions.
so this version has HDMI can use monitor show Album picture. The sound of rAudio is very similar to the sound of Dietpi's compiled version of mpd 0.22.3. rAudio is Archlinux, but Dietpi sounds very similar to the sound of mpd compiled from source.
I think the previous version of rAudio sounds better, but it has the same tendency as Dietpi.

I've installed a new version of rAudio, and the low frequency sounds are much better.

The sound is exactly the same as the compiled version of Dietpi.
I'm not sure if this is a good thing or a bad thing.
You will need to build it with ssh. For internet broadcasting, create a Webradio directory under /mnt/MPD/, download Radio.tar.gz from outside and add it with Addon.
At first, I couldn't log in with ssh, but then I found a description in Github that said #root passwd is ros. This will allow you to edit via ssh.
New rAudio from github, .



Rune Audio play DSF as Dop

RuneAudio by Raspberrypi4 B and sound is Archilinux sound

RuneAudio by Rasp pi4





rAudio Rune Audio for pi4 sound is great .very nice passswd ros for root : new rAudio by ssh
Brand new rAudio github from rAudio download

Webradio download

by ssh cd /mnt/MPD then wget Webradio.tar.gz then tar xvzf Webradio.tar.gz and go to Addon Webradio add by Addon menu.you can get radio channel.
I've been using the FN1242A for a long time.
I've been using the FN1242A for a long time and it's a very easy to use voltage output DAC.
I think it's very easy to use.

I've been using the FN1242A for a long time.
The disadvantage of this Runeaudio (rAudio) is that it can't select music or stations, you can use SKYMPC to select music, Cantata is also fine.
if you have some problem mpd can not start .you can see error massage on WEBUI of RuneAudio.so use ssh can edit mpd.conf file.
The sound of this mpd and the mpd compiled version of Dietpi are very similar. It's hard to tell which is which in a blind test.
mpd should be compiled with the latest version of the sources.
I think that mpd has everything you need.The presentation of RuneAudio (rAudio) is very good.
a small shock can cause it to stop working.
RuneAudio has a disadvantage in that it is not stable enough to run in a distribution that stops working at all. In addition,
the use of new files for everything makes the library incompatible and unreliable.
This is one of the reasons why the development of RuneAudio has been halted. You need to be off the net to use it properly, and Samba is not perfect.
Since these applications have been removed, the RuneAudio music server cannot be used as a music server, and even if it could be used, it would not last long.
The sound is better and more stable with the Dietpi mpd version compilation. The unstable RuneAudio,rAudio. This has always been the case.
RuneAudio is not a regular version, but it can be updated with Pi Zero and a few. Pi4 is not possible. This is because it is not synchronized with Archilinux.
Zero, A, B, 2 and 3 can be updated.
When I actually update it, mpd is the latest 0.22.6. In Dietpi, it will be 0.22.6 depending on the compilation. I think you should also install emacs.
RuneAudio Linux is Archlinux so standalone music server.does not mount any NAS.

Update by SSH h3>
RuneAudio and any Archlinux family does not have smbd so can not use as Music Server is bad point



Raspberry pi B play by mpd 0.22.6 update pi4 can not Update h3> h3> In the end, SAMBA cannot be done. It's a stand-alone music server. If you use Cantata etc.,
the music of the work station will be read. You can also use Cifs-utils to read the hard disks of other music servers.
So, load the hard disk currently mounted on MoodeOS. As an example, access with ssh.
RuneAudio: ~ # mount.cifs //192.168.1.3/A4C0-F0F0 /mnt/MPD/NAS -o vers = 2.0 iocharset = utf8
This will load the Moode Audio hard disk. The control uses SKYMPC. Cantata is fine. Let me introduce two images.



Load with Cantata. Basically, the settings are made using the terminal.



Since the WEB UI is heavy, display it + set it slightly.
The sound is the sound of 022.6 mpd. This is a unique sound of Runeaudio.

Introduce Raspberrypi pico



raspberrypi pico as micro controller・C/C++、MicroPython only can not use Linux



assignment of pico raspberrypi




If I left runeaudio alone, I think I'm updating it without permission, and I'm also changing the WEB UI without permission. Something is easy to use. However,
Samba doesn't work, so I use CIF to link with other servers. For Webradio, create /mnt/MPD/Webradio as explained before and unzip Webradio here.
You can build an internet radio by configuring with Addon. Webradio can be wgetted from my site or brought from other external sites.
please use slimjet browz for control .slim jet get from Slimi Jet browzer see good



Volumio3 is not buster In other words, mpd remained as it was. Why doesn't Volumio use Buster? does not have "no development ability??"
It remains mpd 0.20.18. Better yet, I think it's better to use mpd 0.20.9. If this is the case, the DSF will not skip.

Create m3u Create playlist


$ ls *.mp3 | sort> playlist.m3u

That's it. If you open the terminal and enter the above in the holder, m3u will be created automatically. Because I have Linux
This is easy to make. playlist name make proper name of file




The internal file is m4a, but please change only the extension



Playlist makes



The cover can be displayed because there is a play list


Playlists are automatically generated by various methods such as Moodeaudio and Runeaudio, and each link etc. pulls in the carver image.
Generally, if you save it in a folder with a cover called folder.jpg
The image comes out, but I think that there is a hidden code in MP3 and WAV and it pulls in the carver.
I think it's also good to register on last.fm. However, these dangers extend to the hard disk
Because it searches, the cover may be displayed through Google from the label or Amazon, and if you are playing the music you are listening to in the room,
that is, the music on the hard disk, the same song will be displayed from the Internet radio.
What you hear is a very strange phenomenon.
Be sure to change the password as some people access it from the outside even if it is not connected to Wifi. OS is both Mood and Volumio2 Rune. The music server doesn't stop suddenly, so if someone accesses it or tries to fix it
It will stop in case of so it is recommended to change the password. Defaults are high risk and the contents of your hard disk can be stolen or deleted. be careful.



Click the + icon, write the data in the menu that pops up, and add the Internet URL

MKV youtube file sound conversion

MPD 0.22.6 can basically play anything. MKV used on youtube can be played in the same way as mp4. No format conversion required, although early MPDs couldn't play in any format
You can play the default mpd of Ubuntu Buter that is currently used in any format. Now MKV is easy to convert to MP4. If it can be converted to WAV, it can also be converted to DSF based on it.
The easiest way to use MKV is with VLC. The sound is very good even with MP4, and when played with Mood Audio, it is displayed as Mpeg.



VLC sound convert from MKV to wav



youtube MKV saved file play by MoodAudio 7.1

I think that people who have a site are in trouble due to the abolition of flash player.


I think the person who owns his site was very confused by the abolition of Adobe Flash Player at the end of 2020 last year. This was a fairly complicated script, but I played it using an embedding called fladance.
It was said that it can be played in HTML5. That said, you need to study HTML5 and you also need an application.
There has always been an easy way. So let's introduce it here. Youtube has a copyright relationship, so permission is not given and I upload it to Youtube by trial and error.
It usually doesn't go smoothly. h4>

replaced flash player







Sorry, your browser doesn't support embedded videos.

His demo of NASA is his Video.



Sorry, your browser doesn't support embedded videos.


Mood Audio FN1242A DAC + SPDIF Hat is used 2A3 single amplifier center> This video needs to be edited with Avideomux because the same MP4 could not be played on the smartphone MP4. I got an error in the mp4 before edit.
For that purpose, edit the video to fit the website.

I'm using Avideomux of Fedora core Linux very much usefull application for edit video
Edit mp4
If you do not edit the video taken with your smartphone to introduce the video, you will not be able to introduce it on this site and an error will occur. I edited this operation in detail more than 5 years ago.
Recently, thanks to youtube, I didn't edit these and just uploaded the video to Youtube. Since the flash player has been abolished, it is necessary to edit the video again.
In my case, I use Avideomux. I use it to edit AVI and MP4.

Raspberrypi OS for Raspberrypi 4 64bit

Down Load Raspberrypi OS

Astro pi Project

Raspberrypi 4/Raspberrypi Kano/windows 10 pro





There seems to be a Raspberrypi 10 pro by Raspberrypi Kano version, but I think it's a slow speed. This Kano is an educational PC for children.
I won't introduce it here, but it seems that there is also a product version called Raspberrypi 400. I will introduce the link.
Because it is a collection of Benkei, the performance has not improved. It is unavoidable that it only operates slowly. Kano seems to be Raspberry pi OS developed by micro soft?

Raspberrypi 4 + Kano /windows 10 pro



Raspberrypi 400

Install netdata on moodeaudio
actually moodeaudio 7~ is ranpbian buster so can install netdata on moodeaudio 7.xx

sudo apt update
sudo apt install netdata


sudo emacs /etc/netdata/netdata.conf


[global]
run as user = netdata
web files owner = root
web files group = root
bind socket to IP = 192.168.1.X //// your music server IP at home

This will save it. I only use emacs, so please install emacs.
$ sudo systemctl restart netdata
$ systemctl status netdata



netdata by moodaudio 7.xx you can watch netdata for moodeaudio 7~ buster

Fenix Linux for Raspberrypi and PC

Fenix Linux OS for Intel PC and Arm Raspberrypi 4

Moodaudio is dangerous. Frail firewall

Moodeaudio is dangerous, it will be attacked from the outside and the contents will be deleted, please be careful

using slimjet for Music server show can automatically traduce your language



Slimjet show you your language

Rune Audio update

https://www.runeaudio.com/documentation/troubleshooting/updating/ Please update using ssh according to
. I think slimjet is a good display. Anything can be displayed in the language. In other words, it can be displayed in the language used.
RuneAudio cannot read music from other servers because SAMBA is not enabled, so mount it as follows.
RuneAudio: ~ # mount.cifs //192.168.1.2/6e24-5d74 /mnt/MPD/USB -o vers = 2.0 iocharset = utf8
//192.168.1.2/6e24-5d74 is another running music server or NAS. In my case, I use a 2tera hard disk for Moode Audio, so I use it as a music source.
Arm of runeaudio archlinux has a poor library and is useless It is difficult to download the first OS and then modify it, isn't it?
This OS is up to now. I don't think Archilinux should be used just because it sounds good on an OS with a lot of instability that changes every day,
which is the reason why development has stopped.
I think it's good for making sounds, but I think it's a good idea to install a new version of Runeaudio each time.



Rune Audio update

Install pi-apps
Please refer to the link below. You can install a special installation application. h4>







x86 Emulator

When I searched for , I noticed that there was an x86 Emultor. It has Box86 in pi-apps.
I thought this was an emulator for Arm, and when I searched for it, I arrived at this page.
Install Box86
Please try it first. Let me do it too. Now that QtBsch has the potential to work, it's great news. With this, various applications for windows may work. may be ???
I think it's justified to use a Linux application for x86. Well, what happens, it takes a lot of time to install.
Mainly games for x86, but there is a description that it works quite well. Now if the schematic editor for X86 etc. works, you don't need other workstations of Raspberry pi.
install by git much better then source install because take a time to install library. so much better use git.please install git before start github.
Githhub Box86

Box 86 install Japanese to English



Box86 + wine using windows Game example


wine install get information from You tube

x86 can do By raspi 4

how to use Slimjet
Slimjet used in multiple languages. I will write it in the edit of the site like this, but to make an English version, save this as txt. does not have a menu to open the file in slimjet, possibly
Perhaps there will not be found. Enter the "/" slash in the URL entry window to see the directories on your PC. Find the desired file in it and translate it into the desired language.
I can point out some differences in translation, but it's better than Google. Right-click on the screen and you will be asked if you want to translate, so select the language. This will give you a better translation than Google.

Slimjet used in multiple languages. I will write it in the edit of the site like this, but to make an English version, save this as txt. Slimjet doesn't have a menu to open a file, maybe it
does, but I can 't find it. Enter the "/" slash in the URL entry window to see the directories on your PC. Find the desired file in it and translate it into the desired language.



Installing Emicrock for win32 on Box86.
Using Winetrics
I installed emiclock using Winetrics, or to be more precise, using the Wine file manager menu. The application is emiclock for 32bit.
Download the 32bit application for windows and save it in the holder. After that, just select the application from the menu. The installer came up. Maybe you can do it.
I thought. After installing it, emiclok was ready. It stuck to my desktop. Thanks everyone, the instructions on the Qiit site and well, it was helpful.
This is good enough for me. I'm going to go ahead and install various applications. What did you do in the end? A spell 
sudo systemctl restart systemd-binfmt Is this the one you installed? I checked the starters with this and it was starting fine.
Traduce by Deepl



emiclock is working properly.


Refer to Qitta's website and install winetric and others.
When you install the software, you will see icons in the menu and you can follow them to install the applications.
Bsch does not seem to have an icon, so you will need to create one through the path.
I'm not sure if you have to install it each time, but you can search the net for a library of symbols.
I have a reasonably updated version on my site. VA is Visual Analyser, which is a 32bit application recommended for Linux Wine.
Icons and configuration are reasonably well done. I will try to make it cheaper to use.

Wine menu show above.

Bsch 32bit windows version.


Bsch library Bsch usage Bsch Usage


Visual Analyser for windows 32 bit and Linux 32 bit version.

I've been using it for half a day, and it still doesn't work very well, sometimes it just freezes. I think they are useful. I'm not sure if it's a good idea, but it's a good idea.
I think it's great to be able to draw schematics smoothly and 100 times more flexible than Kicad or other drawing applications.
I'm using the windows 32bit version of the application.
I'm using a 32 bit version of the application, so I can run it just fine.
I think you should use a larger monitor and a regular PC key board. I'm using a 16" LCD. If you have a little patience.

I'm sure time will tell if the Windows version of Office is stuck or not. I think it's good enough to be used as a toy for both children and adults.



Caldus Circuit do fine too version 32bit



Audio and make circuit too using windows application

Instrumentation applications running on Wine.


This application is fully usable as a measuring instrument. It includes a distortion meter, a spectrum analyzer, an oscilloscope, and a signal generator




Visial Analyser for windows 32bit (wine)


pi@raspberrypi:~ $ winetricks allfonts fakejapanese
Apparently, this is important, so after this, I copied the CD and started it from the .exe file in it and did the installation. The result is as follows. This MS is the official version.
Registration is recommended. The PC I used to use this application on no longer exists, so I will continue to use it.



Of course, I was able to install Excel. All I need is Excel.

photo editor for windows but free

Can install by wine .photoscape X.

Photoscape x



photoscape X for windows using with wine




Sorry, your browser doesn't support embedded videos.

Game TORC by Raspberrypi4 B



Raspberrypi 4 Raspbian Buster + wine

Hidemaru Editor install

For version, please download hm897_signed.exe. I was able to install this version. The configuration is very well done and the installation went smoothly.
There are many excellent free editors available for Linux, and some, such as EMACS, also function as mailers.
I thought there was no need to use a paid editor for Windows, but I did.



Hidemaru Editor for Windows + wine
Installing Bsch on Raspberry pi4.


Here is the latest version of Sugyodo's BSCH binaries and library 6.2021.


First, download bs3vp16050rtl. Unzip it and save it in the wine directory. wine maneger will specify the file. First, install the included RUNTime called C++. Then
Install the Bsch book file, RUNtime is not specified on the file, Microsoft C++ will be installed when RUNtime is installed. This is RUNTIME. Then install Qtbsch.
. When the installation is complete, a BSCH window will open, and you can open an existing file or create a schematic. This is the BSCH for Windows. You can now create a schematic.
By the way, you need to install LCO and other Bsch families each time. You can install them each time. It's not clear whether it will work normally if you pass it through, but it's a good idea to use it every time you install it.
I think this is a good idea. This is the first time that Bsch can be used freely on Raspberrypi Raspbian Buster.



You can write it like this.

Bsch 32bit windows version.



GMPC and Raspbian Buster

It's a great breakthrough to run Bsch on Raspbian Buster, thanks to WineHQ who developed wine. I think WineHQ has done a great job.
It's great to be able to draw tube circuits and digital circuits on the Raspbian Buster with the monitor attached, just like on an X86 PC.
I've been using the Raspberry Pi4 for a while now, and I'm sure it will be able to run Windows 10 soon.
I can use it as a SUB PC like this without any problems. No power consumption.
You can watch Youtube and of course Netflix and Hule. I've been using it for a few years now.
This is definitely a useful PC for children.
I was able to install photo shop .Itune and Mario Bros game for Nintendo. This part was edited on 24th June 2021.
This is the Microsoft version installed on the Raspberrypi 4 Rasbian Buster by Wine 5. 
I'm using Visual Studio Code to edit this. I'm not sure how to use it yet, but Visual Studio Code exists for Linux, but not for Arm.
When you install Wine, you can use it on the Raspberrypi4, and to install Bsch, you need to install RunTime, which is also a free C++ application from Micro Soft.
This is a recent development by Micro Soft, which is aware of Linux. I'm not sure if this is a good thing or not, but it's a good thing.
Now let's try to transfer the file from the Raspbian Buster terminal using GFTP. I used VisualStudioCore for editing, but it was too slow,
so I used BlueFish. There is no problem with the transfer, but other operations are a bit sluggish.
Since I am using LXQT, it might be better to use LXDE or ICEWM, or even JWM or Flwm. The window manager needs to be lightened.


Windows applications installed with Wine: Drawing and Editor installations .

。 windows old archive from A to Z。



。 old archive for windows



Raspberrypi 4 Raspbian Buster + wine --version 5

TASCAM Hireso editor Let's try it out .

First things first.
Prepare the WAV file and transfer it to the Raspberry Pi4 B's Raspbian Buster using SAMBA.If you have SAMBA enabled, you can download the file from a music server.
Start up TASCAM's Hi-Res Editor. Import your music files. Then EXPORT. You will be asked what you want to set it to, so set it to 2.8 Mhz.dsf.
All you have to do is EXPORT. Depending on the capacity, the conversion will be done at a very slow speed. Reading takes a lot of time,
but EXPORT also takes a lot of time to make DSF.convert from wav to DSF is a lot of time to take .x11 64bit do about a half of minute but this Case
took time for convert file about 5 minute from wav file to Dsf file by TASCAM editor under raspbian buster with wine 5.xx



doing convert WAV to DSF music file then send to Music Server for play Dsf tested very fine as DoP (PCM)



transfer files by gftp raspbian buster



Using Plasma KDE by Raspbian Buster



This is an image of listening to Netflix in google-Chrome's media position.



Invader Clone, can be installed with apt-get .
Invader Clone.
$ sudo apt-get upgate
$ sudo apt-get install open-invaders
That's it. This is all you need to do to install it.
This is a coolon invader game that I used to have in a coffee shop. It is almost the same. You'll enjoy it!

case of Nanopi-neo2 Music server OS is Dietpi Buster



I still have a few hundred albums left, but I'll put the cover image in the folder



she is best looking for any Music Server

By the way, click on the icon on the right for a sample of mympd.conf data
this is only sample for help configure file of mympd.conf located /etc/mympd.conf



Under Current by Bill Evans and Jim Hall




Modify Nanopi-neo2 as above, just attach one resistor and capacitor OS uses Dietpi Buster



This is the only one attached and removed I2S DAC then add header terminal





Basically, the music file of the PC using NAS or Raspberry pi is mounted and the music file is read. Playback is performed on this Nanopi-Neo2. You can also attach a DAC to the Nanopi-neo2,
Since it has an SPDIF output, you can play it by connecting it to your existing DAC with an SPDIF input. In other words, you need an external DAC. In my case, I use my own 24-bit 198 Khz DAC.

Let's try install windows 11 into Raspberrypi 4

Windows 11 for Raspberrypi4

How to use the current raspberry pi 4 music server

Currently, raspberrypi4 moodaudio is installed. I make sounds only occasionally, what are you using it for? I am using it as a file server. Because it's hard to use,
I don't think the sound is so bad, but I use it quietly as a NAS or file server because it gets stuck in the GUI. The hard disk has 2 terabytes.
The sound source is used by producing sound from the Naopi-Neo2 Music server on another LAN. Since Nanopi-Neo2 has few ports etc., from the SPDIF output of Nanopi-Neo2 to a self-made DAC
I'm connected. For Nanopi-Neo2, Dietpi Buster is the OS. mpd has been compiled and is now 0.22.11. The mpd Client is controlled by using Cantata and SKYMPC of myMPD PC together.
mpd is 0.22.11. When the latest version comes out, I compile it and always use the new version of mpd. After 0.20.X and above, it became possible to play music files with many extensions.
You can also play MKV and ZIP. ZIP can be played even if it is solidified without decompressing anything. That is the feature of the new MPD. DSF can also be played as a DoP without writing a special script.
Voumio2 still uses old UBUNTU, so mpd has not been updated, MoodAudio is a version of MPD close to the latest version. In my case Moodaudio is used as a file server
I think it is fully functional.
Recent Raspberry Pi: Since it is not an application shop, Raspberry pi without a master clock has no purpose to use, for the time being, 3 units are always operating, but a file server and
I use it as a music server. I've been unemployed due to the influence of Corona, so there's nothing I'm looking for in Raspberry Pai. I don't need expensive DACs, and I have DACs I made a long time ago.
If that DAC breaks, it will run a raspberry pie music server. Raspberry Pai 4 has SATA hardware 2 Tera, so run that file with the latest Nanopi-neo2 mpd.
With only one music server, things can be used satisfactorily. Nanopi-Neo2 is a weak but very good music server. The controls use SKYMPD and Cantata. There is a self-made DAC Nanopi-Neo2
I am enjoying music by transferring with SPDIF of
. This is also a technique that cannot be done without a Raspberry pi4 file server.



Edit images with Microsoft photoscape

I am editing an image using MicroSoft photoscape. You can do the same with the Raspberry pi4 Raspbian buster. The application is installed using Wine.
There are various items, so I think it's good to master them.


Old version of Raspberrypi B+ does not play new Volumio2 so using ver old

Rune Audio new version 0.6

New version Rune Audio

I can create Rune Audio from Archilinux, but I don't have such knowledge, because Archilinux has a complicated method and may damage the hard disk, so I made it a general method. prize.
Here is how to download a general image. First, download the image from the link introduced and burn it to a micro SD.
Let's bake using Echer. The partition is then spread with gperted. This time it is Raspberrpi B + of the old board. Burn Rune Audio0.6 to this.

Remove RaspberrypiB + from the music server and repair it. I installed the latest version of Volumio2, but Samba share was not recognized and saved, but I could not play it.
This music server will be provided to acquaintances. Currently, there are 3 music servers running at home, so this is enough. There are two Nanopi-Neo2, two Raspberry Pi, and one Pine64.
SPDIF output is 3 units. Only one DAC is installed. SPDIF connects to a self-made DAC at the output. This is enough. DSF is for PCM only because there are not many sound sources and there is no chance to hear it.
A PCM sound source is sufficient.



Rune Audio 0.6 new version does not work so this is old version 2020 h3>

mount is used by mounting a temporary NAS from Moodeaudio's hard disk. Rune / Archilinux does not enable samba, so mount it using cif-utils. You can use it with this.
Or attach hardware or USB memory to USB to play music. WebRadio imports WebRadio from the outside.
The method is as introduced earlier. First of all, play music by mounting the hard disk
mount.cifs //192.168.1.3/6e24-5d74/ /mnt/MPD/NAS -o vers = 2.0 iocharset = utf8
The new version did not work. This time it is Raspberrypi B +, so it may work with other versions.

How to use fdisk


# fdisk: /dev/mmcblk0
Welcome to fdisk (util-linux 2.30.2).
The contents set here are retained only in the memory until the write command is executed.
Be careful when using the write command.

Command (help with m): p
Disk /dev/mmcblk0: 14.4 GiB, 15502147584 bytes, 30277632 sectors
Unit: Sector (1 * 512 = 512 bytes)
Sector size (logical/physical): 512 bytes/512 bytes
I/O size (minimum/recommended): 512 bytes/512 bytes
Disk label type: dos
Disk identifier: 0x7feae948

Device boot start position Sector size from the end Id type
/dev/mmcblk0p1 40960 245759 204800 100M c W95 FAT32 (LBA)
/dev/mmcblk0p2 245760 4440063 4194304 2G 82 Linux swap /Solaris
/dev/mmcblk0p3 * 4440064 12582911 8142848 3.9G 83 Linux

If you have been using Linux for a long time, you will understand. It's the Linux world that starts with cutting the HDD partition.
This is an example of micro SD, but the same is true for HDD disks. This will delete and create a sector. You can see it by looking at help. Set with the
command. Delete is d, p is a command to look inside the partition. This technique is the same for DOS.
And cut a new partition with n. Then cut off from the primary. You will be asked interactively how to do it automatically
Please decide the address of the partition. The sectors are numbered and the memory is set accordingly. After setting
It will be saved q just leaves this fdisk. Hand it over to the kernel with w and save it. At this time, an error code appears on the screen
Since it may appear, a note will be issued at that time, that is, an error will occur if it does not connect well with the kernel of the PC.
Since you cannot proceed with the process after that, please reboot the PC to make the same screen. I think it's normal.
You can also fill the partition with this operation, but here, do not use this and use Gparted again to set and format
Please go. Even if you can't format it with Gparted, it often works well if you delete it with fdisk and reassemble the partition.
You can use fdisk and Gparted to initialize HDD and micro SD. I think you should try it many times.

Linn Jazz can not get Sound

Ricently Linn Server is down so does not get contact with server
if would like to get Linn Jazz please pls file . as File1=http://radio.linnrecords.com:8000/stream
then you can get now and 8003 Linn Radio and 8004 is Linn Classic
http://radio.linn.co.uk:8000/stream instead of radio.linnrecords.com
please access by ssh and edit by vi or emacs .edit data files.





















































Kali Linux for all arquitecture



Ham Radio worldwide watch on line



On line Linux can do from any OS



Free Down load MP3 from Classic,POP to Jazz any kind of Music




LAN at home








I was an employee of @SONY \ JAPN when I was young. Raspberry pi Family are product of SONY

how to use volumio

image file wrost tool ,application good for any OS


this is Youtube List for my site please viste



Raspberrypi Become high end pro osillosope by BitSCOPE



Japanese Radio Network on Line




Radio Garden warld wide live radio ,you can find any small town's station any counry and country side



Retro Game play by Raspberry pi 2/3 if your raspberrypi already installed raspbian can install manually RetroPi into your Raspberry pi.


----Important:Raspberry Pi Music Server If would like to(Install)and(use) at least need know--"how to use Linux" and lean Linux first !!---- [Currently owned one board PC is 3 RaspberryPi 3, Raspberry Pi 2 1, Raspberry Pi - Zero 1 (lender) and 2 NanoPi - Neo 2. It's all for experiments]